Press release
FCO Minister summons Ukrainian Ambassador to UK
Ukrainian Ambassador summoned to the FCO over shocking violence in Ukraine.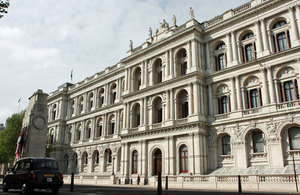 Following the reports of serious violence in Kyiv this morning, the Minister for Europe, the Rt Hon David Lidington MP, summoned the Ukrainian Ambassador to the UK, Volodymyr Khandogiy to the Foreign and Commonwealth Office today.
The Minister expressed extreme concern over the reports of further violence and deaths, and made clear that action against peaceful protestors on Independence Square is unacceptable. The Foreign Secretary and other EU Foreign Ministers will discuss Ukraine this afternoon at an extraordinary meeting of the Foreign Affairs Council.
Further information
Follow Foreign Office Minister David Lidington on twitter @DLidington
Follow the Foreign Office on twitter @foreignoffice
Follow the Foreign Office on facebook and Google+
Published 20 February 2014