Press release
FCO Minister responds to sentencing of Human Rights activists in Egypt
Foreign Office Minister Mark Simmonds expresses concern on the sentencing of three human rights activists in Egypt.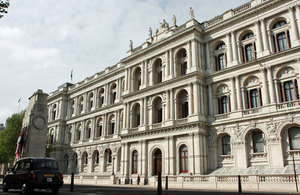 Foreign Office Minister Mark Simmonds said:
I was deeply concerned to hear about the sentencing to three years in prison of the democracy and human rights activists Ahmed Maher, Ahmed Douma and Mohammed Adel. This represents a serious setback to attempts to return Egypt to the democratic path and undermines the values expressed by Egyptians during the Revolution of January 2011. The UK believes the freedom to protest peacefully is vital in any democracy and calls on Egypt's interim leaders to ensure that they uphold all Egypt's international human rights obligations.
Further information
Follow Foreign Office Minister Mark Simmonds on twitter @MarkJSimmonds
Follow the Foreign Office on twitter @foreignoffice
Follow the Foreign Office on facebook and Google+
Published 22 December 2013