Press release
FCO Minister for Asia and the Pacific visits New Zealand
UK Government reaffirms ties with New Zealand ahead of Pacific missions opening.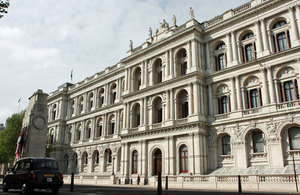 Britain and New Zealand are set to work together more closely and deeply than ever before as the UK government establishes a greater diplomatic presence in the Pacific region and opens diplomatic missions in Samoa, Tonga, and Vanuatu.
As well as enhancing existing joint-working on climate security which was the focus of the recent Pacific Islands Forum, Britain and New Zealand are working on tackling threats to international security and championing free trade. Preparatory work is also underway to lay the groundwork for a UK-NZ Free Trade Agreement (FTA).
Speaking while on his visit to New Zealand today, Minister for Asia and the Pacific Mark Field said:
New Zealand is an obvious partner of choice for us in our work with the Pacific islands to tackle climate change and marine plastic pollution. But our co-operation goes far beyond these issues as we share common values and both believe the international rules-based system affords the best opportunity for security, growth and sustainability.

Our posts in the Pacific region are a concrete demonstration of Britain's commitment to the region, and will allow us to engage with New Zealand in particular to tackle the effects of climate change, and bolster resilience in Pacific Island communities.
As well as opening posts in Tonga, Samoa and Vanuatu, the UK is also expanding its presence in Fiji.
The Department for International Trade (DIT) is currently consulting on Free Trade Agreements with New Zealand, as well as Australia, and the US, and also on accession to the Comprehensive and Progressive Agreement for Trans-Pacific Partnership (CPTPP), of which New Zealand is a member.
Published 7 September 2018