UK and New Zealand agree new partnership in the Pacific
British diplomats will co-locate with their New Zealand counterparts when the new UK High Commissions in Tonga and Vanuatu open later this year.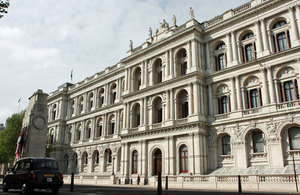 The announcement was made during New Zealand Prime Minister Jacinda Ardern's visit to the UK.
The new UK High Commissions will be opened in the summer of 2019 as part of the biggest expansion of Britain's diplomatic network for a generation. Announced by Foreign Secretary Jeremy Hunt in October 2018, the expansion of the Foreign & Commonwealth Office network will see 12 new Posts opened before the end of 2019 and nearly 1,000 more personnel recruited.
The announcement, which is part of a number of new collaborations agreed by the two leaders, will see diplomats from both countries co-locate and enable them to work in partnership across the Pacific region in tackling some of the most pressing global issues including climate change and disaster resilience.
The plans will also include a separate High Commissioner's Residence as a more visible UK presence and utilise New Zealand's current infrastructure to make the UK's work in the region more cost-effective and collegiate.
Jeremy Hunt, Foreign Secretary said:
The UK is at a pivotal moment in its history as we reinvigorate and expand our diplomacy to respond to modern day challenges.

Our shared history and values mean co-locating with our New Zealand friends in the Pacific is a natural choice, so we can share in each other's expertise and work together to tackle vital challenges such as climate change.
Each new High Commission is expected to have around five or six staff who will focus on strengthening our engagement with the Pacific. We also expect to select talented young local people for UK scholarships as part of our international Chevening programme.
During Prime Minister Ardern's visit, the leaders also agreed to prioritise a UK-NZ Free Trade Agreement (FTA), as well as signing a Mutual Recognition Agreement (MRA) to enable the continuity of goods standards. In addition there were announcements on childhood development in developing countries, and continued co-operation on tackling climate change.
Further information
Media enquiries
For journalists
Published 22 January 2019