Press release
FCO Minister expresses concern for people and historic sites in Palmyra
Minister for the Middle East Tobias Ellwood calls ISIL presence in Palmyra a tragedy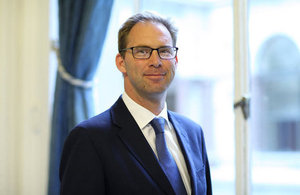 Commenting on reports that ISIL forces have reached the UNESCO World Heritage Site at Palmyra in Syria, Foreign Office Minister Tobias Ellwood said:
ISIL's presence in the ancient site of Palmyra is a tragedy for all Syrians and its destruction would be a terrible act of vandalism. This is part of a much wider human catastrophe: hundreds of thousands of Syrians have been killed at the hands of Assad and ISIL, millions have been displaced and historic cities such as Aleppo have been reduced to rubble by regime bombardment.

The UK is working with its allies to support the moderate Syrian Opposition to defend the Syrian people from Assad's inhumanity and ISIL's savagery.
Further information
Published 21 May 2015