Press release
FCO Minister condemns violence in Rakhine State
Foreign Office Minister Hugo Swire has underlined the UK's concerns about recent violence in Rakhine State, Burma.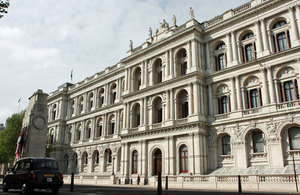 Mr Swire said:
I am appalled to hear reports that at least forty people, mainly Rohingya women and children, have been killed in Maungdaw Township, Rakhine State.

I call on the Burmese government to launch an immediate and transparent investigation. We have further underlined this message today to the Burmese Ambassador in London. The Burmese government must continue to provide security for all communities in Rakhine State and to create a situation whereby international assistance can be provided.

This incident of violence is not isolated. It reinforces the need for strong, immediate and decisive action by the government to enforce the rule of law and ensure justice across Rakhine State. A long term solution needs to be found to bring peace and reconciliation to the two communities.
The UK has now given total of £6.4m in aid to Rakhine to support shelter, water sanitation and hygiene programmes, nutrition and protection activities, as well as non-food items for 115,000 people. We also provide support to the UN's coordination of the international humanitarian response.
Further information
Follow Foreign Office Minister Hugo Swire on twitter @HugoSwire
Follow the Foreign Office on twitter @foreignoffice
Follow the Foreign Office on facebook and Google+
Published 23 January 2014