Press release
FCO Minister condemns further Iraq attacks
Tobias Ellwood condemns attacks across Iraq that killed over 50 people and calls for inclusive government to fight terrorism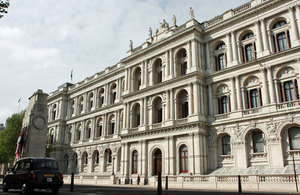 Reacting to news that over 50 people had been killed in attacks across Iraq yesterday, including an attack on a Shia Mosque, Minister for the Middle East Tobias Ellwood said:
The United Kingdom condemns the attacks that took place across Iraq yesterday. My condolences go out to the families of those involved.

The attacks targeting worshippers in a Shia Mosque in Baghdad were particularly disturbing. These attacks, clearly designed to incite violence and create sectarian division, have no place in the future of Iraq. It is vital that all Iraqis unite together to confront the serious threat Iraq faces from terrorism.

The United Kingdom continues to fully support the Iraqi government in its efforts to combat terrorism and bring those responsible for these terrible crimes to justice. I again urge all of Iraq's political leaders to work together to urgently form a new inclusive, national unity government.
Further information
Foreign Office Minister Tobias Ellwood on twitter @TobiasEllwoodMP
Follow the Foreign Office on twitter @foreignoffice
Follow the Foreign Office on facebook and Google+
Published 26 August 2014