Press release
FCO Minister concerned by arrest warrants for Muslim Brotherhood
Alistair Burt expresses concern at arrest warrants for Muslim Brotherhood and warns politicised arrests won't help Egyptian transition.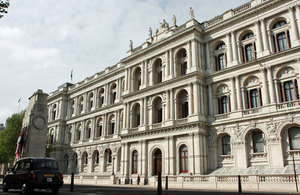 Commenting on reports that further arrest warrants had been issued in Egypt for a number of senior Muslim Brotherhood figures, FCO Minister for the Middle East Alistair Burt said:
I am concerned by continuing reports of arrests and the detention of political figures in Egypt. While we understand the need to maintain security, Egypt's pressing needs can only be met by pursuing a genuinely inclusive political process that involves all sides rising above self-interest and shunning violence to deliver the reform and democratic transfer the Egyptian people deserve.
I continue to urge all parties in Egypt to work together to bring about elections that can be contested freely by all sides. Throughout this process, it's vital that the authorities fully respect the rule of law and make good their promises to guarantee a media free from state interference. Arrests that are seen to be politicised cannot help build an inclusive process.
Further information
Follow Foreign Office Minister Alistair Burt on twitter @AlistairBurtFCO.
Follow the Foreign Office on twitter @foreignoffice, facebook and Google+.
Subscribe to the announcements feed or email alerts to get our latest news and announcements.
Published 15 July 2013