Press release
FCO Minister Baroness Warsi Twitter Q&A on UK and Pakistan
Senior Foreign Office Minister Baroness Warsi will answer your questions on UK and Pakistan live via Twitter on 16 October.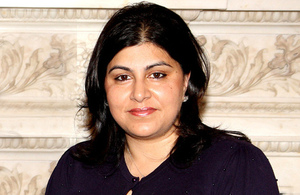 The UK and Pakistan have many strong connections that bind our people together. During Baroness Warsi's visit to Pakistan earlier this month, discussions focussed on trade and the economy, and building partnerships between Pakistan and the UK in areas such as energy, security, education and retail. One of Baroness Warsi's main messages was that a strong, prosperous and democratic Pakistan, that protects the rights of all in Pakistan, is vital for the security of the country and the region.
Baroness Warsi was particularly keen to see the economic ties between the UK and Pakistan strengthened during the visit and so she was accompanied by a trade mission of leading UK businesses. This reflected the UK's commitment to increase the volume of trade with Pakistan to £3 billion by 2015. Increasing trade will help create jobs and boost employment for people across Pakistan and in the UK, making our countries more prosperous and secure.
During her two day visit Baroness Warsi and the UK Trade Mission met the Prime Minister of Pakistan, the Chief Minister of Punjab, the Finance Minister and other senior Government figures. She also met parliamentarians from a range of religious backgrounds as well as business leaders.
In December, London will host a dedicated UK-Pakistan trade conference to encourage more companies to follow the success of those already operating in Pakistan. There will be a specific focus on strong participation from the energy sector.
Baroness Warsi will answer your questions on the UK and Pakistan live via Twitter on Wednesday 16 October from 1115 – 1150 (BST). You can submit a question using the hashtag #askFCO and you can follow the Minister on Twitter @sayeedawarsi.
Published 11 October 2013