World news story
FCO Minister Alistair Burt visits West Bank and Jerusalem
From:

Part of:

Published:

13 June 2013
This was published under the 2010 to 2015 Conservative and Liberal Democrat coalition government
The visit aimed to build on American efforts to re-launch the MEPP & strengthen the relationship between the British and Palestinian people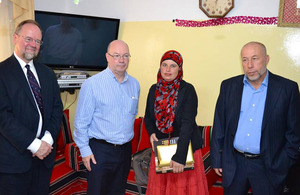 UK Minister for the Middle East, Alistair Burt, travelled today to the West Bank and Jerusalem as part of his regional visit. The trip, following on from the Foreign Secretary's visit last month, aimed to build on US Secretary of State Kerry's efforts to re-launch the Middle East peace process and strengthen the relationship between the British and Palestinian people.
Minister Burt met with Palestinian President Mahmoud Abbas in Ramallah. The Minister and the President discussed the importance of improving the situation on the ground in the Occupied Palestinian Territories, including East Jerusalem, and explored ways in which the UK can assist in securing a return to credible negotiations. The Minister held discussions with the new Palestinian Authority Prime Minister Rami Hamdallah, in which they discussed the importance of building strong, effective state institutions, economic conditions and prospects for peace. Minister Burt also met Deputy Prime Ministers Mohammad Mustafa and Ziad Abu Amr, Palestinian Foreign Minister Riyad Al Malki, and Fatah Central Committee member Muhammed Shtayyeh.
Minister Burt also returned to the West Bank village of Nabi Saleh where he met with two families who lost sons during protests. The Minister toured the village and inaugurated the restored Nabi Saleh community centre and the school's science laboratory funded by the British Consulate General in Jerusalem.
Commenting on the visit, the Minister said:
In my meeting with President Abbas, we agreed on the critical importance of the current efforts led by Secretary Kerry to restart negotiations, as well as the UK and EU's role in reaching an agreement: a two state solution, with a safe and secure Israel living alongside a viable and sovereign Palestinian state; based on 1967 borders with agreed land swaps, Jerusalem as the shared capital of both states, and a just, fair and agreed settlement for refugees.
I also congratulated Prime Minister Hamdallah in person on his appointment, where he reiterated his determination to continue building the institutions of a future Palestinian state under the rule of law, and I look forward to working closely together.
I was honoured to return to Nabi Saleh, a place which means a great deal to me. I have visited twice before, and each time have been impressed by the fortitude of those who live here under the most challenging of conditions. The Tamimi family represent thousands of families across the Occupied Palestinian Territories that continue to be directly affected by the occupation. The British government firmly believes that settlements are illegal, an obstacle to peace, erode trust, and are endangering the two state solution. We are seriously concerned by the increases in violence and intimidation by extremist Israeli settlers against ordinary Palestinians and Palestinian property.