Press release
FCO marks International Day in Support of Victims of Torture
FCO Minister for Human Rights reaffirms UK support for victims of torture and renews drive to encourage torture convention ratifications.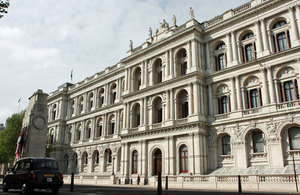 Senior Foreign Office Minister Baroness Warsi said:
On this day in 1987, the United Nations Convention Against Torture came into force. International Day in Support of Victims of Torture reminds us that torture remains a global problem. The UK has consistently and unreservedly condemned the use of torture and cruel, inhuman or degrading treatment or punishment and recognises that the impact on victims, their families and their communities is devastating. International action against torture has long been, and continues to be, a priority for the UK.

The UK will continue to combat torture through our own initiatives and project work and through international efforts. Over the next year, we will be renewing our efforts to persuade those states that have not yet done so to ratify the Convention Against Torture and its Optional Protocol. Ratification would ensure that states can benefit from constructive dialogue with international experts and also send a clear signal to the international community of their overall commitment to eradicating torture and impunity.
Further information
Find out more about the UK's work preventing torture
Follow Foreign Office Minister Baroness Warsi on twitter @SayeedaWarsi
Follow the FCO's human right channel on twitter @FCOhumanrights
Follow the Foreign Office on facebook and Google+
Subscribe to the announcements feed or email alerts to get our latest news and announcements.
Published 26 June 2013