Press release
FCO encourages parties to focus on resumption of Middle East Peace Process negotiations
UK urges parties to focus on resumption of negotiations and avoid steps that undermine efforts towards a negotiated two-state solution.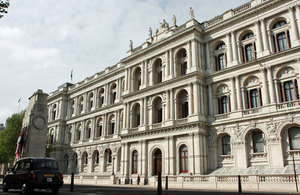 Commenting on recent developments in Israel and the Occupied Palestinian Territories, an FCO spokesperson said:
We are concerned by the decision taken by Israeli authorities on Sunday to advance plans for almost 1200 settlement units in the West Bank and East Jerusalem. As the Minister for the Middle East Alistair Burt said on Friday, such steps do not help efforts towards a negotiated two-state solution. The focus now must be the resumption of negotiations on 14 August, as part of efforts to bring about a lasting peace. The UK urges both sides to avoid steps that undermine these efforts and to take measures to build trust. In this regard, we welcome the bold and forward-looking decision taken by Israel on Sunday to release 26 Palestinian prisoners in advance of talks. The UK will continue to do all it can to support Israel, the Palestinians and the United States to achieve a two-state solution and lasting peace for the Israeli and Palestinian people.
Further information
Read Alistair Burt's recent statement condemning Israeli settlement announcement and calling for focus on negotiations
Follow Foreign Office Minister Alistair Burt on twitter @AlistairBurtFCO
Follow the Foreign Office on twitter @foreignoffice
Follow the Foreign Office on facebook and Google+
Published 12 August 2013