News story
Farming minister discusses wildlife-friendly farming at RSPB farm
George Eustice visited RSPB-owned Hope Farm to see work taking place to better protect our farmland birds.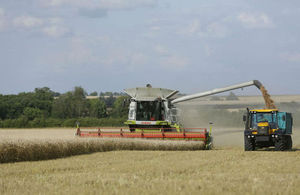 Farming minister George Eustice has visited RSPB-owned Hope Farm to see first-hand some examples of the great work taking place to better protect our farmland birds.
Hope Farm, a 181 hectare farm in Knapwell, Cambridgeshire, was purchased by the RSPB in 2000 with the aim of developing and trialling farming techniques that can produce food cost-effectively and benefit farmland birds.
During his visit to Hope Farm, the minister met with Ian Dillon, RSPB Hope farm manager, and Abi Bunker, the RSPB's Head of Agricultural Policy to discuss the successful wildlife-friendly practices that have allowed the farm to double farmland bird numbers and quadruple skylark numbers since 2000.
In 2016, a new government scheme will be introduced which will replace the current Environmental Stewardship. It will be more targeted than its predecessor, and better focused on selected areas and delivering key priorities, such as recovering farmland birds. This will include wider measures to help this valuable wildlife by providing food and nesting habitat.
The success that Hope Farm has enjoyed illustrates that farmland bird numbers can increase when the right environmental measures are applied. It also shows that helping to recover farmland birds does not have to compromise the running of commercial rural businesses – a key part of the government's long-term economic plan.
Farming minister George Eustice said:
The decline in farmland birds in recent decades has been a real cause for concern. But we can learn a huge amount from projects like that at Hope Farm which demonstrate that often simple measures can have a real impact.

That's why we are introducing a new scheme from 2016 to help farmers do even more for this valuable wildlife.
Abi Bunker, Head of RSPB Agricultural Policy, said:
It was great to host the Farming minister at Hope Farm, and we welcome his ongoing commitment and interest in wildlife friendly farming. Agri-environment schemes have proven a lifeline for nature whilst helping to maintain viable farm businesses, and it's key that the new scheme builds on this success. It's crucial now that the measures we know work for farmland wildlife are given priority, and that the farmers doing the most for nature are put centre stage.
Published 16 October 2014