Farmers should be able to offer affordable homes on the farm
Councils should amend their existing planning policies to make it easier for disused farm buildings to be converted into affordable homes.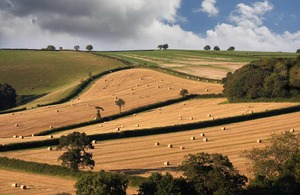 The average house price in rural England has more than doubled over the past decade to over £250,000, but the average salary is still £21,000. The numbers of people on social housing waiting lists in rural areas has risen to 750,000.
So Communities Minister Andrew Stunell has called on farmers to identify disused farm buildings that could be converted into new affordable homes for local people, and for councils to look favourably on their planning applications.
It fulfils a key Coalition Agreement commitment to enable the building of 'homes on the farm', by encouraging the redevelopment of disused agricultural buildings as new and affordable housing.
Mr Stunell said:
"Farmers are the custodians of our countryside, managing thousands of acres of rural land across England. But when they want to make disused buildings available for new homes, they can often face an uphill battle to get planning permission in the face of their council's development plans.
"As more young people are unable to afford to live in rural areas and village schools, shops and pubs struggle to survive, farmers are ideally placed to help bring the community together to help reverse this trend.
"That's why I want to make it easier for farmers to offer 'homes on the farm' for local people. 1 small step for councils will offer a significant opportunity for communities to get the new and affordable homes their villages need. I want farmers to take their place at the forefront of this rural revolution alongside their local councils, to make farm buildings available, and to work with their local communities to shape the sustainable development of their countryside so it can remain a vibrant place to live for generations to come."
National Farmers Union planning adviser Ivan Moss said:
"The 'home on the farm' scheme is an excellent opportunity for farmers who want to use their outbuildings for a constructive purpose. It should also sustain the rural economy by providing homes for those working in it.
"The National Farmers Union will watch with interest the outcomes of the first applications from farmers to their local councils to convert disused buildings into affordable homes and hope that councils will be equally eager to be pioneers in the scheme."
Published 18 October 2012