Press release
Farmer fined for assaulting Environment Agency officer
A Dorset man made an expensive mistake the day he assaulted an Environment Agency officer during a farm visit near Poole.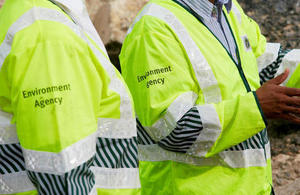 David House struck the officer as he tried to take photos of the site – an act of aggression that cost him more than £400 when he appeared before Bournemouth magistrates.
The court heard how officers visited French's Farm, Watery Lane, Upton on 17 August 2015 to check whether the defendant had complied with a formal notice to remove illegal waste from the site. Checks by the Environment Agency had earlier revealed the farm was being used for the illegal storage and disposal of domestic and commercial waste.
During the visit, House obstructed all 3 officers before trying to knock a camera out the hand of an officer as he tried to take photos of the waste.
He was later charged with offences under the Environment Act 1995 (Section 110) and the Criminal Justice Act 1988 (Section 39) including obstruction and assault by beating. The case was taken by the Crown Prosecution Service. House was arrested after he failed to attend a court hearing in March 2016.
Initially he denied the 2 offences, but changed his plea to guilty after seeking legal advice. The tenant farmer's solicitor said his client accepted the Environment Agency officers had a right to be on his site and were exercising a lawful power of entry.
A spokesperson for the Environment Agency said:
We will not tolerate the use of violence against our officers while they are carrying out their lawful duties.
House was fined £100 for each offence plus £165 costs and ordered to pay £50 compensation.
The case was heard by Bournemouth magistrates on 8 December 2016.
Published 16 December 2016