Fallon: No more 'gold plating' of EU laws
Redoubling of action to set business free by cutting red tape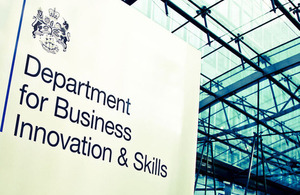 Business Minister Michael Fallon will today announce that tough new rules imposed across Whitehall have stopped government departments adding to UK business costs by 'gold plating' EU legislation with additional regulations.
In the past, Whitehall departments added additional burdens to EU laws - including rules on energy efficient buildings, and health and safety at work - which imposed extra costs and restrictions on business.
But new figures assessing the impact of a government regime introduced in 2011 to prevent gold plating show that from July 2011 to December 2012, there has been almost no gold-plating of EU legislation.
In only one instance, out of eighty-eight cases in which the UK has adopted laws from Europe - including those covering animal health and welfare, protection of the environment and transport - did a department propose placing additional burdens on UK business.
To build on this record, and deliver more certainty for business, Mr Fallon will continue to withhold agreement for any new regulations that gold-plate legislation. Ministers are also monitoring how other EU countries transpose legislation, in order to ensure the minimum necessary is implemented in the UK.
Speaking to the Centre for Policy Studies today, Michael Fallon will also pledge to build on this success by re-doubling government efforts to slash UK red tape.
Mr Fallon will say that although the government has made good progress to date, with government action already expected to save business around £1bn in reduced costs, he agrees with the business community that more radical action is required to remove barriers to growth and to promote a culture of enterprise.
New reforms include a 'growth duty' on over fifty different regulators, ensuring that enforcement is consistent with minimum restraints on economic development. Regulators will be required to use their resources more intelligently to root out malpractice and help firms meet their legal obligations. And a second phase of the Red Tape Challenge will launch this spring, giving businesses another opportunity to tell the government where action is most required.
Business Minister Michael Fallon will say:
The government has been fighting hard to make sure that red tape from home or abroad never puts UK firms at a disadvantage compared with their European counterparts. And we've clear evidence that our no-nonsense approach is starting to work for business.
We continue to work with partners in Europe to reduce the burden of red tape on business. We have already had successes, but we need to go further to stimulate growth and jobs.
I want to re-define how regulation works, placing regulators on the side of the majority of law-abiding businesses. So in the second half of this Parliament we will be even bolder and turn the screws tighter on burdensome red tape.
To give growth a boost we must support challenger businesses – the dynamic upstarts that drive innovation, exploit new technologies, and bring competition into markets. And the evidence is clear that compliance and administrative costs pose a barrier to growth or even market entry for these small firms.
So we must de-regulate further and faster, both at home and in Europe. Where regulation is absolutely needed we'll apply it in a more business-friendly way. These reforms are not about relaxing standards. They are about changing the culture so that businesses are seen as part of the solution and enterprise is rewarded.
Priorities for making the EU more business-friendly include persuading the Commission to publish an annual statement of the net cost of EU legislation, to help business see what burden of regulation stems from the EU; and making sure that business have an opportunity to influence EU proposals at an earlier stage.
Notes to Editors:
1.Michael Fallon addresses the Centre for Policy Studies in London on Monday 25th February.
2.The Guiding Principles for EU Legislation, introduced in July 2011, underly the government's approach to EU measures, aimed at maximising the UK's influence in Brussels and ending the gold plating of EU legislation in the UK. When transposing EU law, the government will:
a. wherever possible, seek to implement EU policy and legal obligations through the use of alternatives to regulation;
b. endeavour to ensure that UK businesses are not put at a competitive disadvantage compared with their European counterparts;
c. always use copy out for transposition where it is available, except where doing so would adversely affect UK interests, e.g by putting UK businesses at a competitive disadvantage compared with their European counterparts. If departments do not use copy out, they will need to explain to the RRC the reasons for their choice;
d. ensure the necessary implementing measures come into force on (rather than before) the transposition deadline specified in a directive, unless there are compelling reasons for earlier implementation; and
e. include a statutory duty for Ministerial review every five years.
3.The rejected 'gold plating' proposal was to go beyond EU minimum requirements in order to move to 'full cost recovery' for the provision of statutory services. However, this proposal was not approved by Ministers.
4.There are more than fifty non-economic regulators, with a combined budget of approximately £4 billion and 55,000 employees.
5.Red Tape Challenge reforms are already saving business over £155 million per year - with many further savings not yet quantified. The latest data shows that around 1,400 regulations have already been identified to be scrapped or substantially reduced.
6.This year the government replaced the One-in, One-out rule with the more challenging One-In, Two-Out rule - under which departments must find savings worth double the cost any new regulations on business. Taken together, these initiatives will save business around £1bn by this June.
7.The government will demand action from regulators to improve the way necessary regulations are enforced, so that businesses will benefit from less onerous form-filling and fewer unnecessary visits from inspectors from different agencies. More widely, clearer systems of appeal will empower firms to challenge decisions that they feel are unfair.
8.Beating red tape: some achievements to date:
Employment Tribunal reforms will deliver £40m of savings per year to employers.
Over 100,000 small businesses have been given flexibility to decide whether their accounts should be audited
Simplified registration of company charges will save businesses nearly £22million.
The qualifying period for unfair dismissal has been increased to two years, saving business £4.7m per year.
Live music events in pubs and schools have been exempted from licensing; a change welcomed by pubs and grass roots musicians.
The government will legislate to free 1 million self-employed people whose work poses no harm to others from health & safety law, and exempt hundreds of thousands of low risk businesses from routine and unnecessary health and safety inspections.
9.The government's economic policy objective is to achieve 'strong, sustainable and balanced growth that is more evenly shared across the country and between industries'. It set four ambitions in the 'Plan for Growth' (PDF 1.7MB), published at Budget 2011:
To create the most competitive tax system in the G20
To make the UK the best place in Europe to start, finance and grow a business
To encourage investment and exports as a route to a more balanced economy
To create a more educated workforce that is the most flexible in Europe.
Work is underway across government to achieve these ambitions, including progress on more than 250 measures as part of the Growth Review. Developing an Industrial Strategy gives new impetus to this work by providing businesses, investors and the public with more clarity about the long-term direction in which the government wants the economy to travel.
Published 25 February 2013