Press release
Fallon appointed as new energy minister
Michael Fallon MP is appointed as Energy Minister, replacing John Hayes MP.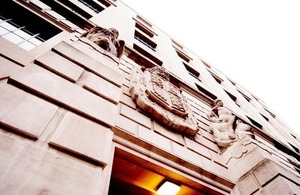 Press release 2013/033
Michael Fallon MP is to join DECC as Minister of State for Energy and Climate Change, as John Hayes leaves the department to take up the role of Minister of State without portfolio.
Michael Fallon is to carry out the post in addition to his current role as a Minister of State at the Department for Business, Innovation and Skills.
This will help to join up the Government's work on low-carbon industries like nuclear and offshore wind and the supply chain. A full outline of changes to Ministerial portfolios will be confirmed in due course.
Secretary of State Edward Davey said:
"John and I have worked well together as an effective team, and I'm especially grateful for his work on steering the Energy Bill through Parliament. I wish him well in his new post.
"I am delighted to welcome Michael Fallon to DECC. He brings with him a wealth of business experience and will make an excellent addition to the team.
"He will help to cement the links I've been making across Government as energy is such a critical industry for the UK's growth prospects, and the creation of green jobs.
"We will continue to implement the energy and climate change policies that this Coalition Government has committed to, ensuring we can keep the lights on, people's energy bills down and cut emissions to tackle climate change."
Minister Michael Fallon said:
"Both departments share a strong focus on business and the economy and I am delighted to be given the opportunity to build on their cross cutting work on this agenda.
"This week has seen the launch of important industrial strategies for the nuclear and oil and gas sectors to secure future billions of investment, thousands of jobs and a diverse energy mix. A strategy for offshore wind will be completed in the coming weeks.
"Energy policy has a key role to play in securing sustainable future growth in the economy, strengthening supply chains, keeping people's bills down and tackling climate change".
Notes for Editors
John Hayes will become a new Minister without Portfolio, based in the Cabinet Office. He willl also become a member of the Privy Council.

John Hayes will be replaced at DECC by Michael Fallon, who will remain a BIS minister (ie becoming a joint-minister in both departments). This will help join up the Government's work on low-carbon industries and the supply chain.

Michael Fallon MP
Michael Fallon was appointed Minister for Business and Enterprise in September 2012. He has been the Conservative MP for Sevenoaks, Kent, since 1997. Michael was educated at Epsom College and the University of St Andrews.
Michael was MP for Darlington from 1983 to 1992. He was a minister in the Department for Education and Science from 1990 to 1992. More recently he has held positions on the Treasury Select Committee and was Deputy Chairman of the Conservative Party.
Michael is a former director of Bannatyne Fitness Ltd (fitness clubs), Quality Care Homes plc (nursing homes), Just Learning Ltd (nurseries), Attendo AB (Scandinavian social and health care) and Tullett Prebon plc (inter-dealing broking). Michael is married and has 2 children.
Published 28 March 2013