News story
Fake goods stopped at the border on BBC's Fake Britain
Watch Border Force officers intercepting counterfeit goods to safeguard British shoppers and traders.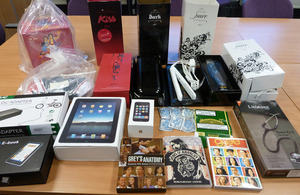 The new series of Fake Britain continues with Border Force officers detaining counterfeit goods that have been sent through the post.
The BBC followed officers working at the Coventry postal hub and viewers will see officers intercept fake designer clothing and footwear as well as counterfeit medicines.
Fake goods seized and destroyed
Almost all the items had been purchased on the internet and were destined for UK addresses. All of the items were confirmed as counterfeit and destroyed, it is likely that the consumers who bought them lost their money.
David Dodds, Border Force, Coventry International Hub, said:
Our officers are on constant alert deploying the latest scanning technology and intelligence to prevent illegal and counterfeit goods entering the UK.

It is easy to think you are getting a bargain, but our message is that if something appears too good to be true it probably is.

You could end up out of pocket – but even worse you could end up with a fake product that is inferior and could be harmful or unsafe.
Border Force officers work around the clock at ports, airports and international postal hubs to detect illicit goods, illegal drugs and weapons.
If you missed the show you can still catch the action at BBC iplayer.
Published 7 May 2013