News story
Fair rules change after CMA investigation
The CMA welcomes news the Showmen's Guild members have voted in favour of rule changes proposed to address its competition concerns.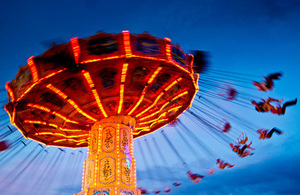 The changes include opening up Guild-run fairs for non-member showmen and reducing restrictions on rival fairs opening close to Guild fairs. They also include practical steps to improve transparency, including publishing the Guild's rules online, and ensuring objective criteria for membership are explicitly set out.
The rule changes were proposed by the Guild following an investigation by the Competition and Markets Authority (CMA). This raised concerns that some of the rules restricted competition, potentially to the detriment of millions of UK fairgoers and showmen.
The changes, which were accepted by CMA on 26 October 2017, are aimed at:
Giving fairgoers more choice and variety in their local area
Improving the quality of rides and fairgoers' all-round experience
Giving councils more power to decide who runs fairs in their area. This will allow them to change the make-up of fairs and refresh under-performing fairs
Helping members and non-members of the Guild work together more easily, providing fresh attractions to fairgoers
Following the membership's vote in favour, the rule changes were ratified at a meeting of the Guild's Central Council on 17 January 2018 and have now come into force.
It remains for the Guild to fulfil its commitment to the CMA to publish its amended rule book online by no later than 31 March 2018. The CMA will continue to monitor the Guild's progress in this regard and its adherence to its Commitments more generally.
The CMA has conducted a number of other investigations into the conduct and rules of trade associations such as those in relation to Property Sales and Lettings, Private Ophthalmology and the Modelling Sector and its work in all these areas, including in the present case, should serve as a wake-up call to trade associations whose rules look to shield their membership from competition.
The CMA has produced advice to help trade associations avoid breaking competition law as well as a range of simple guides, including videos, 1-pagers and an online quiz to help smaller businesses understand what to look out for.
Published 26 January 2018