News story
Extra trains and faster journey times will boost capacity
Eighty new train carriages set to be introduced on the First TransPennine Express and London Midland networks from December 2013.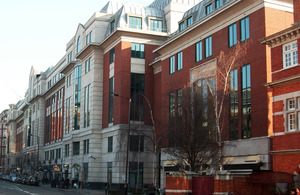 Passengers are on track to benefit from faster, longer trains and over 12,000 extra seats each day on journeys into London, Birmingham, Manchester, Leeds, Liverpool, Newcastle, Sheffield, Glasgow and Edinburgh, Rail Minister Theresa Villiers announced today (29 February 2012).
The capacity boost is being provided thanks to 80 new train carriages set to be introduced on the First TransPennine Express and London Midland networks from December 2013. The 2 franchises will get 40 extra carriages each.
Theresa Villiers said:
This is great news for passengers who will get faster, longer trains and more seats. Increasing capacity on some of the busiest routes in the country is a key part of the major programme of rail capacity expansion we have promised to deliver. It is a vital way of responding to passenger concerns about crowding and providing an important stimulus to economic growth.

As rail travel becomes more popular operators must be able to meet growing demand and these new carriages will enable existing trains to be lengthened. These new trains will also run faster, which means extra train slots will come free, so that London Midland can fit more services into the timetable.
Current London Midland services travel at a maximum speed of 100 mph, but the train operator will modify some of their existing fleet to run at 110 mph - the maximum speed of the new-build trains - creating faster peak and off-peak services into London Euston.
Not only will this mean quicker journey times - the extra speed will help shave up to 25 minutes off existing Crewe to London Euston off-peak services, for example - but the new timings will create space for extra train slots enabling London Midland to boost capacity in the peak even further.
TransPennine Express' 40 new carriages will be used on the Manchester to Scotland route following the electrification of the line between Manchester and the West Coast Main Line south of Wigan. The new carriages will enable existing diesel rolling stock to be redeployed across the franchise to increase capacity into Leeds, Manchester, Liverpool, Sheffield and Newcastle.
The new carriages are part of wider plans by the government to introduce 2,700 carriages onto the rail network by 2019.
Further information
The new carriages, which will be built by Siemens, are being procured by London Midland on behalf of both TOCs. The leasing and operation of the additional carriages is being funded by an increase in government funding to the 2 TOCs of circa £41 million to the planned end of their franchises. The procurement for London Midland was already underway when the electrification of Manchester and the West Coast Main Line south of Wigan was announced. The government therefore asked London Midland to extend this existing procurement to include trains needed for the Manchester - Scotland services.
The agreement with First TransPennine Express includes the electrification of the depot at Ardwick, Manchester, where those trains will be maintained.
London Midland will receive a total of 40 Class 350/3 carriages while TransPennine Express will receive 40 Class 350/4 carriages. The difference between London Midland and TransPennine Express' carriages is that those on TransPennine Express will be configured slightly differently to meet the needs of long distance and airport passengers.
Of the 40 carriages London Midland will receive, 12 will help deliver an internal rolling stock cascade that will provide additional capacity on the Cross City line in Birmingham. The frequency of peak and off-peak services between Birmingham and Redditch will be increased from 2 trains per hour to 3 trains per hour from December 2014. The trains will also enable electric services from Birmingham New Street to be extended to Bromsgrove from May 2015, assuming that the plan to relocate Bromsgrove Station is confirmed and electrification is completed on schedule.
The other 28 London Midland carriages will provide faster peak journeys and extra capacity on services into London Euston from December 2014. For example, the peak journey times between London and Northampton will be reduced by up to 10 minutes and the services between Milton Keynes and London will be reduced by up to 7 minutes. In addition, London Midland will be able to run 3 additional AM peak services and 5 additional PM peak services into and out of London Euston.
Commuters into London Euston will also benefit from faster journeys due to modifications to increase in maximum speed of some of London Midland's existing fleet from 100 mph to 110 mph. The modified trains will deliver faster off-peak services and these are expected to be introduced from December 2012.
Rail media enquiries
Media enquiries 020 7944 3021
Out of hours media enquiries 020 7944 4292
Switchboard 0300 330 3000
Published 29 February 2012