Press release
Extra time to celebrate Royal Wedding
Licensed venues could sell alcohol and put on entertainment until 1 am to celebrate Royal Wedding under plans announced by the Home Office.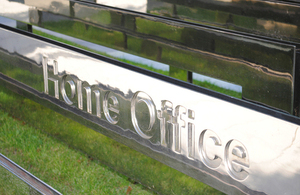 A two-week public consultation has been launched today asking for views on extending opening hours on Friday 29 April and Saturday 30 April 2011 - allowing many premises to open for an extra two hours and put on live music and other forms of entertainment if they choose to mark the special occasion.
It is estimated that around 67 per-cent of on-trade licensed premises, like pubs and bars, close before midnight.
Currently licence holders have the option of applying to their local council for a Temporary Event Notice at a cost of £21.00 if they wish to extend their opening hours.
Relaxing the licensing laws for the Royal Wedding will mean they will not have to this, making celebrating the event easier for businesses too.
Minister for crime prevention James Brokenshire said: 'The Royal Wedding is a time of national celebration and we want everyone to be able to participate.
'We recognise that people may want to extend their festivities to mark this important occasion which is why we intend to allow pubs, bars, community and village halls and other licensed venues to be able to open later.'
Notes to editors
The Government proposes to make a licensing hours order under section 172 of the Licensing Act 2003 to mark the wedding of Prince William and Miss Kate Middleton on 29th April 2011.  The order will extend opening hours between 11 am and 1am on Friday 29th April and Saturday 30th April for the sale of alcohol for consumption on the premises and the provision of regulated entertainment in licensed premises in England and Wales.

The consultation will run from Wednesday 12 January 2011 to Wednesday 26 January 2011. The consultation document and information on how to respond to can be found on the Home Office website at: http://www.homeoffice.gov.uk/about-us/consultations/

Currently licence holders have the option of applying to their local council for a temporary event notice (TEN) to extend their opening hours for a limited period or special event. A TEN costs £21.00 per notice application and is subject to an annual limit of 12 per premises. 

For more information ring the Home Office press office on 020 7035 3535 
Published 11 January 2011