News story
Extension of the European Fisheries Fund scheme
The MMO is pleased to announce that Defra has agreed to extend the current European Fisheries Fund (EFF) scheme beyond 30 June 2014.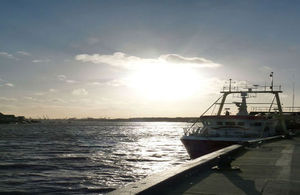 This is for a limited period only, in order to ensure grant support is available to the fishing industry until the new European Maritime and Fisheries Fund (EMFF) commences in early 2015. The EMFF scheme forms part of the reformed Common Fisheries Policy.
A review will be carried out on a monthly basis and it is recommended anyone looking to apply for support from the EFF sends their applications to the Marine Management Organisation (MMO) as a matter of urgency. New projects must have the ability to deliver quickly, as the deadline for claiming funding re-imbursement is December 2015.
The storm damage element of the EFF scheme is set to close on 15 August 2014. This follows an extension from the original deadline of 30 June. This extension has been a great success, supporting a large number of fishermen after the winter storms.
You can see more information about the fund, including how to apply for a grant, on our website.
Published 4 August 2014