Evidence on the Communications Data Bill
Home Office outlines purpose of the Communications Data Bill and how it will continue to give police vital powers to help catch criminals.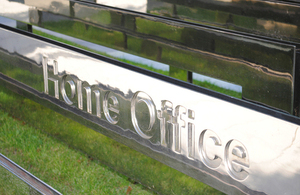 Director General of the Office for Security and Counter Terrorism Charles Farr will give evidence to the joint committee today (Tuesday 10 July), after the committee was formed to conduct pre-legislative scrutiny of the draft Communications Data Bill published in June.
Communications data
Communications data is information generated about a communication. It includes the time and duration of a communication, the number or email address of the originator and recipient and sometimes the location of the device from which the communication was made. Communications data is distinct from communications content.
The legislation will require Communications Service Providers (CSPs), when requested to do so, to retain and store communications records which they may not retain at present for their own business reasons.
Communications data is already used by the police and is vital for day-to-day police work and in particular the investigation of all forms of serious crime, including terrorism and child abuse.
This legislation will ensure that, as communications technology changes, the police will maintain access to this data in future. But access to data will continue to be permitted only in the context of a specific investigation or operation.
Access to data
Four key bodies will be allowed to apply for access to data under new rules in the Bill - the police, the Serious Organised Crime Agency (SOCA)/National Crime Agency (NCA), the intelligence agencies and Her Majesty's Revenue and Customs.
Hundreds of public bodies - including local authorities - currently have access to communications data, but will not be covered by the new laws unless Parliament agrees their use is vital to tackling crime and protecting the public. 
Tackling crime and terrorism
The bill will ensure law enforcement agencies maintain the ability to tackle crime and terrorism as criminals use modern technology and new ways of communicating to plan and commit crime.  Without action by government crimes enabled by email and the internet will increasingly go undetected and unpunished.
There has been a huge increase in the use of new technology and the volume of data on UK networks in recent years.  There are now more than 80 million mobile phone subscriptions in the UK.  Over a quarter of UK adults are smart-phone users, with 60 per cent buying their phone in the last year.  Data volumes transferred over mobile networks increased by 67 per cent in 2010. 
Speaking when the bill was first published, Home Secretary Theresa May said: 'Communications data saves lives. It is a vital tool for the police to catch criminals and to protect children.If we stand by as technology changes we will leave police officers fighting crime with one hand tied behind their backs.
'Checking communication records, not content, is a crucial part of day-to-day policing and the fingerprinting of the modern age - we are determined to ensure its continued availability in cracking down on crime.'
New legislation will help ensure police can stay a step ahead of the criminals. But it will not:
enable unfettered access by the police to data about everyone's communications
provide the police and others with powers to intercept and read your emails, phone calls or check your contacts lists
create a single government database containing your emails and phone calls to which the police and agencies can get unlimited and unregulated access
weaken current safeguards or checks in place to protect communications data
allow local authorities greater powers
Regulatory framework
The new proposals will see communications data taken out of the Regulation of Investigatory Powers Act (RIPA) and the creation of a new regulatory framework.
Access to the vast majority of communications data is currently conducted through RIPA, but there are a multitude of other powers public bodies can use - including Acts governing environmental protection, pensions and financial services.
The new bill will replace the dozens of currently available powers with a single piece of legislation, all under the auspices of the Interception of Communications Commissioner.
The legislation will also ensure there is a level playing field for communication service providers.  They will be reimbursed for any costs of complying with legislation.  Obligations will not be placed on every CSP and will only be imposed after detailed discussion and ministerial sign-off.
CSPs will be able to appeal to a technical advisory board under dispute procedures if they feel requests made of them are unnecessarily onerous.
Protecting the public
Association of Chief Police Officers (ACPO) crime head Jon Murphy chief constable of Merseyside Police said when the bill was first published: 'Communications data is vital to law enforcement. It is an essential and irreplaceable tool for protecting the public, keeping people safe from harm and, ultimately, saving lives.
'It provides investigative breakthroughs to the most serious of crimes, including child abuse, murder, rape, kidnapping, cyber crime and terrorism offences.'
CEOP Chief Executive Peter Davies said in June: 'We protect and safeguard children and pursue offenders who cause such serious harm.  Without communications data and intelligence, we would not be able to act as fast as we need to and, in many instances, we would not be in a position to act at all.'
SOCA Director General Trevor Pearce said when the bill was published: 'Any significant reduction in the capability of law enforcement agencies to acquire and exploit intercept intelligence and evidential communications data would lead to more unsolved murders, more firearms on our streets, more successful robberies, more unresolved kidnaps, more harm from the use of class A drugs, more illegal immigration and more unsolved serious crime overall.
'This would mean SOCA, the Metropolitan Police Service and other agencies relying more heavily on more expensive, more risky  and potentially more intrusive techniques to locate and apprehend offenders.'
Communications Data Bill published on Flickr
Published 10 July 2012