Press release
EU-wide agreement on how to crack down on TB in cities
TB in western European countries is concentrated in big cities, according to a study published today in Eurosurveillance.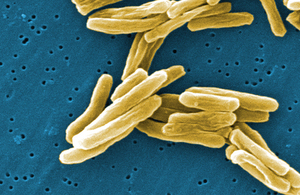 The research also found that while the number of TB cases continues to reduce in some countries in Europe the rate of TB within some of Europe's big cities continues to increase.
The study took cities with populations greater than 500,000 from across the European Union (EU) and considered both their national TB rates compared to their big city rates. The research concluded that on average the rate of TB in big cities was twice the rate of the countries' national TB incidence. This provides what the study refers to as a 'TB epidemiology transition', a situation whereby TB disease concentrates in big cities as the national incidence falls.
TB mainly affects certain high risk urban groups such as those who originate from high TB burden countries, homeless people and those with previous drugs and alcohol misuse.
Ibrahim Abubakar, Public Health England's head of TB and Professor of Infectious Disease Epidemiology at UCL said:
Although we have long understood that TB affects specific groups and is often concentrated in urban areas, what we are now witnessing is a marked change where rates of TB are showing an overall reduction nationally, while still increasing within big cities.

Elimination of TB in European big cities requires control measures focused on addressing the diversity of individuals in urban populations and efforts to target TB must drive right down to local and regional level where unique experience of how to reduce the infection can be shared and built upon.

Public Health England is committed to reducing the incidence of TB and will publish a national strategy later this year which will consider how to specifically target those most in need of screening and treatment – this study published today is a significant step towards realising this mission to globally reduce the burden of TB.
To combat this EU-wide problem a working group, chaired by Prof Abubakar and Dr Gerard de Vries of KNCV Tuberculosis Foundation, was established which has drawn up a study describing the particular complexities of major EU metropolises creating specific opportunities for transmission of TB. A further paper, also published in Eurosurveillance today, advises TB experts across the UK on best practice targeted TB control interventions.
Dr Rob van Hest, who led the accompanying paper said:
Lessons can be learnt from across the EU and this consensus statement on TB control in big cities was brought together on the initiative of the European Centre for Disease Prevention and Control. The statement describes general and specific social, educational, operational, organisational, legal and monitoring TB control interventions in EU big cities, as well as providing recommendations for big city TB control, based upon a conceptual TB transmission and control model.
Latest PHE figures show that there were 8,751 tuberculosis (TB) cases reported in the UK in 2012, slightly lower than the 8,963 cases reported in 2011.
TB is the leading cause of death among curable infectious diseases worldwide and was declared a global emergency in 1993 by the World Health Organization. Symptoms include fever and night sweats, persistent cough, losing weight, blood in the sputum (phlegm or spit) at any time and can only be spread through close contact with an infectious case.
Notes to editors
Public Health England's mission is to protect and improve the nation's health and to address inequalities through working with national and local government, the NHS, industry and the voluntary and community sector. PHE is an operationally autonomous executive agency of the Department of Health.
www.gov.uk/phe Follow us on Twitter @PHE_uk
Infections press office
PHE press office, infections
61 Colindale Avenue
London
NW9 5EQ
Published 7 March 2014