Press release
Environment Agency forces Dudley company to stop operating
The Planning Inspectorate has dismissed Oakham Environmental Waste & Recycling Centre Ltd's appeal against the revocation of their Environmental Permit by the Environment Agency.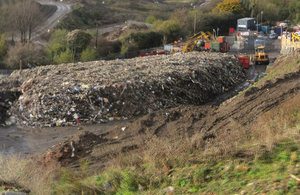 The company ran a skip business and waste transfer station at Oak Farm, Kingswinford in the West Midlands. The Environmental Permit was transferred to the company in January 2011, but since then they have significantly breached certain permit conditions.
The Environment Agency revoked the permit in May 2013 after the company allowed a series of breaches. These breaches included: too much waste on site, no technically competent manager, waste tipped and stored outside the appropriate bunkers and significant amounts of waste tipped outside the permit area. The company failed to comply with a series of enforcement notices and their lack of action resulted in a number of waste fires.
Following rejection of the appeal the company has now been ordered to remove all of the waste from the site within six weeks.
The Environment Agency is cracking down on poorly performing waste sites by requiring operators to stop operations if they are not competent to run the sites properly.
Revoking the permit takes away the operator's permission to operate. The Environment Agency is in some cases revoking permits to prevent further waste activities at these sites, even where prosecution may not have begun. This is necessary to tackle these problem sites and their impact on legitimate businesses and the environment.
Speaking about this approach, Jonathan Hall, from the Environment Agency said:
We will not tolerate operators who continually breach the conditions of their permits, or pose unacceptable risks to the environment. We're taking action against poorly performing waste sites because, in our opinion, these permit holders are not competent to operate in line with their permits and their operations pose a serious risk to the environment. Failure to comply with an environmental permit is an offence and undermines those legitimate businesses which make sure they do comply.
Anyone who is concerned about the activity at a particular waste site and its impact on the environment can call the Environment Agency's Incident Hotline: 0800 80 70 60 or report it anonymously to Crimestoppers: 0800 555 111.
Published 27 May 2014