Press release
English and Welsh sparkling wines a cork popping success
Sales of English and Welsh wine predicted to hit almost £100 million next year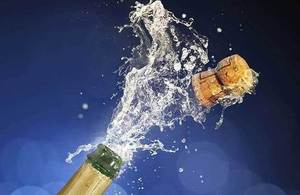 More flutes of English and Welsh sparkling wine are set to be clinked across the world at midnight tonight than ever before with sales of wine produced here predicted to hit almost £100 million next year.
Cases of home grown bubbles, which make up 66% of our total wine production, are now being shipped to more than 13 countries.
Today revellers in champagne-loving France and new world wine winner Australia are set to toast the New Year with English and Welsh sparkling wine as our vineyards, a number of which are only 150 miles north of Champagne, report growing trade with these countries.
The rush on our bubbles has led to the acres of vines planted across England and Wales more than doubling in the last decade. Total acres of vineyards now stands at more than 4,500, up from 1,879 in 2004, with 470 vineyards now open for business.
As part of our long term economic plan the government has opened around 600 trading markets across the world since 2010 for food and drink businesses, with 199 being negotiated since the beginning of last year.
We've also helped more than 2,500 food and drink businesses sell their produce abroad - more firms than ever before - generating £300 million for the UK economy.
Our growing food and farming sector is now worth a record £103 billion to the UK economy and employs 1 in 8 people – overall our food and drinks exports now stand at £18.9 billion, their highest ever.
Environment Secretary Elizabeth Truss said:
This industry is fizzing. It shows our long-term economic plan is helping our exporters thrive and generate the jobs we need to secure the recovery.

These figures are testament to the hardworking can-do attitude of our world class food and drink industry and shows the UK is a place the world comes to buy trusted, quality produce.

There has never been a more exciting time for the English and Welsh sparkling wine industry and I look forward to seeing it go from strength to strength, taking its rightful place alongside champagne.
Ridgeview wines based on the South Downs in Sussex has had its best year yet for overseas sales of its sparkling wine. It now exports to 12 countries making up 15% of its sales, rising from just 2% in 2010. It aims to double the size of its production from 250,000 to 500,000 bottles in the next five years.
This month, English sparkling wine gained royal reputation when a bottle of Ridgeview's best Bloomsbury 2011 was served to the Duke and Duchess of Cambridge during their recent tour of New York.
Mardi Roberts, Sales and Marketing Manager of Ridgeview, said:
We're seeing exports go from strength to strength and it is our ambition to grow this to 30% over the next five years as we double our current productions.

We are selling our product to twelve countries which would have been unheard of in the English wine industry 20 years ago. Exporting is the best step to increase sales and most importantly, raising the profile of Ridgeview and English sparkling wine in general.
Alongside Ridgeview, Kent based Chapel Down is seeing strong growth internationally with global sales rising over the last five years. They now welcome more than 50,000 visitors each year to their vineyards. Recent investment in the company will see the expansion of the winery, a new distribution centre built, improvements to visitor facilities and a new brewery created.
Frazer Thompson, CEO of Chapel Down, said:
'Brand England' and its food and drink reputation is getting stronger. And with our wines winning international medals and gaining recognition with leading wine critics, and our production growing rapidly, we are now in a great position to grow our exports.

At Chapel Down, we have stepped up our international focus – we are exporting to a number of countries, including Hong Kong, Japan, Norway, Finland and Belgium, our PR activity is no longer limited to the UK, we exhibit at trade fairs in Europe and Asia, and we invite international journalists to the winery throughout the year.
Both locations, Kent and Sussex, where some of the most famous English sparkling wine originates, are only about 150 miles north of the Champagne region. They benefit from the same chalky soils around the North and South Downs that are very similar to the earth used to plant grapes for famous names such as Bollinger.
In the last 16 years English sparkling wines have won 14 international sparkling wine trophies – no other country has achieved this. This year is also predicted to be a vintage year for English and Welsh sparkling wine, helping grow the industry further.
Increasing our exports of sparkling wine has helped grow the UK's Food and Drink industry, which remains the country's biggest manufacturing sector, greater than cars and aerospace combined.
To celebrate the New Year and the growth in sales, the English Wine Producers are calling on barmen across the country to serve up English bubbly for New Year and use English fizz to create a quintessentially English cocktail.
Julia Trustram Eve, Marketing Director of English Wine Producers, said:
It is a very exciting time for English sparkling wine, with more producers coming on to the market, more wine available to buy, year on year competition success and moving in to new export markets. We've every reason to raise a glass or two in celebration.
Notes to editors
In 2013 exports of UK food and drink were worth £18.9 billion, an increase of £1.2bn since 2010.

Statistics from the English Wine Producers show that the ongoing growth in volume, sales of English and Welsh wine are forecast to grow to nearly £100m in 2015.

Based on English Wine Producers statistics, 66% of all English wine produced is now sparkling wine.

Acreage of vineyards in production sourced by Wine Standards Branch, Food Standards Agency, May 2014 via English Wine Producers.

An English sparkling wine has been selected by P&O Cruises to launch their latest cruise ship next year, Britannia. Wiston Estate is producing Nebuchadnezzas (a 20-bottle bottle) for the launch.

More information is available on the English Wine Producers website.

UK Trade & Investment, working with the best of private sector expertise, is helping more companies sell their products and services internationally than ever before through its partners and network of trade officials:
Last year it helped 47,960 companies from small businesses exporting for the first time, to established exporters trade abroad and is well on course to smashing the target of helping 50,000 companies by 2015.

These companies created or safeguarded 220,440 additional jobs (up 45 per cent since 2012-13). While the value of additional sales attributed to UKTI reached £49.1 billion.

89% of these companies are SMEs, or 42,684 companies.
Image credit: solarseven/iStock/Thinkstock
Published 31 December 2014