News story
England to have over 500 new green buses
£46 million funding for over 500 new green buses for England.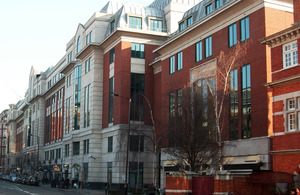 Government funding of over £46 million will see 542 new low carbon buses on roads across England by March 2012, Transport Minister Norman Baker announced today (6 April 2011).
The money is part of the government's drive to target investment in new projects that promote green growth and encourage use of sustainable local transport.
All English regions will benefit with funds which have been paid to 20 bus operators and 6 local authorities. All the buses are expected to be in service by 2012.
Norman Baker said:
My vision is for a transport system that cuts carbon and creates growth.

Low carbon buses emit around 30 per cent fewer greenhouse gas emissions than standard diesel buses and use around a third less fuel - that is why it was so important to kick-start the market.

They also represent an important and developing industry - both in this country and throughout the world - which has the potential to create jobs and boost economic growth.

Green buses are therefore an absolute no brainer - they are the perfect combination of targeted investment that help people make the transport choices that are good for society as a whole.
Green, low carbon hybrid-electric buses supported by the Fund are already in operation in London, Manchester, Oxford and Reading. Electric buses supported by the Fund are operating in Durham.
Further information
The government's Green Bus Fund is a scheme through which bus operators and local authorities bid for grant to help them purchase new low carbon buses.
A low carbon emission bus (LCEB) is a bus that is able to achieve the LCEB target for greenhouse gas emissions, which is equivalent to a 30 per cent reduction in its greenhouse gas emissions compared to a current Euro 3 diesel bus of the same total passenger capacity. These buses will all meet the latest air quality standards, delivering at least Euro V EU emission standards.
Bus operators and local authorities were able to bid for funding towards the cost of a low carbon bus. This grant was to help them to meet the additional upfront cost of the vehicles.
The Fund has been a great success story. We have paid out more than £46 million in grant to 20 bus operators and six local authorities which will part-fund 542 new low carbon emission buses to operate in England by March 2012. The majority (97 per cent) are hybrid-electric vehicles with the remainder all-electric buses.
Green Bus Fund buses will be operating in all regions in England by March 2012.
143 buses supported by the Fund are now in operation in Greater Manchester (51 buses), London (50 buses), Oxford (27 buses), Reading (six buses), Leeds (six buses) and Durham (three buses).
Alexander Dennis Limited will benefit most from the Fund, having received 53 per cent of the funded bus orders. Optare received 27 per cent of the orders and Volvo/Wright Bus received the remaining 20 per cent.
Table: Buses ordered through the Fund
Roads media enquiries
Media enquiries 020 7944 3021
Out of hours media enquiries 020 7944 4292
Switchboard 0300 330 3000
Published 6 April 2011