Press release
Enforcement patrols catch illegal anglers in the North East
63 offences reported during the close season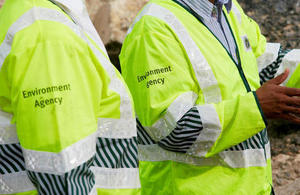 Illegal anglers are being warned to obey the law or face prosecution after spot checks recorded 63 offences in the North East in the past three months.
Enforcement patrols carried out during the coarse fish close season, which runs from 15 March to 15 June, reported 30 offences relating to fishing out of season, and another 33 offences that mostly involved fishing without a licence.
In May, three people were prosecuted for illegal fishing in the North East. The average fine for those prosecuted was £229. Nationally, there were 128 prosecutions in May. One angler's failure to obtain a valid licence landed him with a fine of £827, when a year-long licence would have cost him just £27.
Kevin Summerson, special enforcement team leader at the Environment Agency, said:
Generally speaking, anglers in the North East are compliant with the law, but we are still out there carrying out spot checks, and we do find people fishing illegally.

These offences are committed by the angler not having a licence, or by them coarse fishing during the close season. Both of these types of offences are crimes, and those who are caught will face appropriate enforcement action: they could be fined or banned.

The coarse fishing close season exists to allow the fish time to breed and spawn and so maintain a healthy stock of fish. When people ignore it, they are putting fish stocks at risk, which has a direct impact on the ecology of the watercourses and the enjoyment of other anglers.

Legitimate anglers can be assured we shall continue our pro-active approach to licence checking through an intelligence-led, co-ordinated program in partnership with like-minded bodies so we can reduce illegal fishing activity. The high bankside evasion rate shows how effective targeted enforcement can be in delivering results.
The new fishing season for rivers, streams and drains began on 16 June, and those who want to get involved in this fantastic sport can buy a rod licence from Post Officers, the Environment Agency's website, or by calling 0844 800 5386.
Licences cost £27 (fixed at the 2011 price) for a full annual licence and the money allows the Environment Agency to continue to manage and improve fisheries on rivers, streams and man-made drains.
Anyone who suspects illegal fishing to be taking place should report the matter to the Environment Agency's incident hotline, on 0800 807060.
Published 20 June 2014