News story
Energy Secretary opens new Siemens wind turbine blade factory in Hull
Business and Energy Secretary visits Hull to attend the official opening of the new Siemens wind turbine blade manufacturing facility.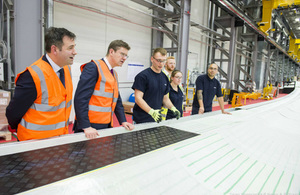 Business and Energy Secretary Greg Clark visited Hull today (1 December 2016) to attend the official opening of the new Siemens wind turbine blade manufacturing facility.
Over the next few years the facility will supply 75 metre long turbine blades for a range of new offshore wind farms across the UK, including Dong Energy's Hornsea One wind farm off the coast of Yorkshire, and Scottish and Southern Energy's (SSE) Beatrice wind farm located in the Moray Firth.
Business and Energy Secretary Greg Clark said:
This is exactly the relationship we want to see between our large infrastructure projects in the UK and our supply chain companies as part of our industrial strategy.

Hull has established itself as an important manufacturing and engineering centre for this innovative and exciting new industry. In the coming years the new offshore wind projects that this factory will supply could generate enough clean electricity to power over 3 million homes and businesses – all with wind turbine blades produced by the dedicated and highly skilled Siemens workforce right here in Hull.

Since 2010, there has been over £52 billion of investment in renewables in the UK – creating thousands of highly skilled jobs and opportunities here in the UK to support our low-carbon economy.
Nearly 800 new roles were advertised by Siemens for the facility and the vast majority of those positions have now been filled by people living in the Hull area.
The Hull facility is Siemens' premier site for the manufacture of the larger 75 metre (B75) blades for the 7+MW turbines, set up to currently run 3 moulds simultaneously and future options for a fourth mould. While Siemens have other blade production facilities for the B75 in Denmark, Hull will become the lead site for offshore blade production and is future proofed for the next generation of blades.
Green Port Hull, at the city's Alexandra Dock, is one of the key Enterprise Zone sites for the Humber Local Enterprise Partnership. The Humber Enterprise Zone is the largest in England, covering 30 sites on both sides of the Humber, and is one of 14 zones across the Northern Powerhouse. Nationally, there are 36 Enterprise Zones across England. Since 2012, when the programme was established, Enterprise Zones have attracted 29,549 jobs, 732 businesses and secured over £2.6 billion of private sector investment.
Published 1 December 2016