Press release
Energy measures to save £200 annually in fuel bills for a new home
New energy standards to cut £200 on typical new homes' fuel bills and large businesses over £60k, compared to build standards before 2010.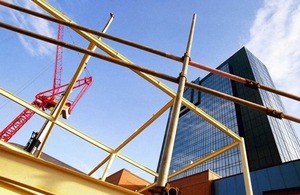 These changes will also further cut carbon emissions, help tackle climate change and ensure the government is on track to deliver the Budget commitment for zero carbon homes from 2016 in England.
The measures coming into force in April 2014 mean new homes and non domestic buildings will have to include energy saving features such as better fabric insulation and more efficient heating and lighting.
Communities Minister Don Foster said:
At a time when energy costs are rising and everyone is watching their wallet these measures mean anyone buying a new home knows it will be built to tough energy saving standards to drive down their fuel bills. Businesses will also benefit with new rules to make buildings such as offices, shops, warehouses and pubs more energy efficient.
The toughened up measures announced today in Parliament - "Part L of the Building Regulations" - following consultation mean a 6% cut in carbon emissions for new build homes, and a 9% cut for non domestic buildings.
The small increase in construction costs will be heavily outweighed by subsequent energy savings, meaning today's measures will create a £384 million net saving for people and businesses over the average lifetime of the new features.
Tackling climate change
Buildings account for around half the UK's carbon emissions and cutting these is a significant part the government's commitment to tackle climate change.
Don Foster said:
Today's measures mean businesses and householders will not only benefit from reduced energy bills but they will also know they are doing their bit to tackle climate change.
6.4 million tonnes of carbon dioxide should be saved as a result of today's new measures.
No changes are being made to rules on existing homes. The government also announced last December that building a conservatory or extension would not a trigger a requirement, known as 'consequential improvements', for homeowners to carry out energy improvements throughout their property.
Owners of existing homes and buildings can benefit from the Green Deal, allowing them to fit energy saving measures such as insulation and solar panels with government support, repaid through a small levy on otherwise reduced energy bills.
Notes to editors
Regulations introducing the changes will be laid in Parliament soon.

The £200 and £60,000 figures on energy savings are based on a semi detached house and a large urban office respectively. Further details on savings will be published in the impact assessment laid in Parliament at the same time as the Regulations.

The department will shortly be consulting on a package of measures to abolish unnecessary rules imposed on housebuilders, cut red tape and support housing growth.

As part of work preparing for zero carbon homes from 2016 the department will also be consulting in due course on 'allowable solutions' - the measures housebuilders can use to achieve a zero carbon rating.

The government also confirmed that no regulation is to be introduced at this time requiring quality assurance processes. The government is however supporting the Zero Carbon Hub led industry programme set up to look at the discrepancy between design and as built energy performance for new homes. The Hub have published a progress report.

An 'offsite housing review' published by industry earlier this year highlighted the benefits that offsite construction techniques can offer in the way housing is delivered, potentially providing a swift, high quality solution to creating cost effective, zero carbon homes. It supported the government's aim of improving new homes' energy performance, through a tightening up of the part L building regulations, as a way of encouraging wider take-up of off-site construction techniques in house building. For further information see the news story.

The department has today also published changes to parts A and C of the building regulations, dealing with Eurocodes and radon gas protections.
Published 30 July 2013