News story
New action group to help maximise house building potential of off-site construction
Housing Minister Mark Prisk announces a new industry-government working group to help maximise off-site construction in the housing sector.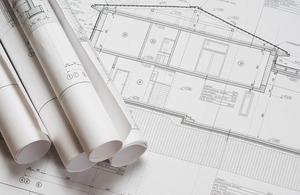 A new expert working group will help maximise the untapped potential for off-site construction in the British house building industry, Housing Minister Mark Prisk announced today (28 February 2013).
Mr Prisk set out his plans for the industry-government group in response to a new report launched today, highlighting the benefits of off-site construction, which involves creating the major components of a housing development in a purpose-built factory and assembling them on location.
The minister said that the many advantages of this method, including swift, cost effective construction and high carbon efficiency, could revolutionise British housing delivery, especially in high-need areas such as affordable housing and the private rented sector, as well as a growing self-build sector.
As part of today's launch, Mr Prisk toured the £100 million Laing O'Rourke Explore Plant in Steetley, Nottinghamshire to see how the company is leading the way in British off-site manufacturing.
The minister said that the plant demonstrated the potential quality and performance that off-site construction offers to the housing sector, and he was encouraged to see it boosting local growth, providing real employment opportunities and training for the Steetley community.
Mark Prisk said:
"Off-site construction is an industry with untapped potential in this country, and could in time revolutionise the way we deliver our housing, providing a swift, high quality solution to creating cost effective, zero carbon homes.
"I've seen for myself the benefits this method can bring, both to builders and to local communities, creating the jobs and training opportunities local people need.
"So today I'm taking action to maximise this potential, and setting up an expert off-site construction action group to take forward today's recommendations and help to drive innovation in British house building."
The group's work will target 3 key areas:
incentivising the use of off-site construction to deliver more new homes
securing investment in this developing market
creating the market conditions to increase confidence in the method
In addition, the minister has indicated that he will ask the government's private rented sector taskforce and the National Self Build Association to identify opportunities for expanding the use of off-site construction in delivering new privately rented homes, including developments benefiting from our £200 million Build to Rent fund.
Professor John Miles, said:
"Our work in compiling this report has identified huge potential for off-site methods of construction to be introduced to the house building industry. It will take a lot of hard work to accomplish this, but the goal of delivering better homes, faster, promises benefits for all and that will make those efforts worthwhile."
Ray O'Rourke KBE, Chairman of Laing O'Rourke, said:
"We welcome the minister's determination to ensure that innovation is brought to bear in meeting Britain's housing needs. As an industry we have a once in a lifetime opportunity to create a new and leading housing proposition for the UK market, based on the successful Design for Manufacture and Assembly approach we have pioneered in Laing O'Rourke's core construction business."
Graham Watts, Chief Executive of the Construction Industry Council (CIC) who supported the panel, said:
"CIC has welcomed the opportunity to manage the review and congratulates the joint chairs and their whole project team for delivering an excellent report with significant intellectual rigour, within a comparatively short timescale but nevertheless with significant opportunity for input from all the major stakeholder groupings. Their recommendations are well considered and backed by a weight of detailed analysis and evidence. CIC members will consider the report formally at a meeting of the Council on 20 March. We are enthusiastic about continuing to provide an independent cross-industry platform for developing and monitoring the implementation of the recommendations."
John Slaughter, Director of External Affairs for the Home Builders Federation who participated in the preparation of the report said:
"We welcome the report's recognition that the off-site supply side offer to house builders needs to be commercially attractive. It is clearly in the national interest, as it recommends, to help optimise off-site supply options so they can support both housing volume growth and building to higher levels of sustainability in future. We look forward to participating in the follow up."
Further information
On 6 September 2012 in the written parliamentary statement on housing and growth the government said that it will ask an industry-led advisory group of experts to prepare proposals by Budget 2013 on how the increased use of off-site housing construction techniques in house building could be incentivised.
The report was prepared by an Expert Review Panel comprising Professor John Miles (Cambridge University) and Professor Nick Whitehouse (Oxford Brookes University) with the support of Graham Watts (Chief Executive, Construction Industry Council) and Ian Pannell (Director, Buildoffsite) who provided the Secretariat. The full report is available on the Construction Industry Council website.
Off-site construction is a building delivery method that adds substantial value to a product and process through factory manufacture and assembly intervention. The whole objective is to deliver to the construction site, elements that are to an advanced state of completion thus removing site activity from the construction process. In some cases this may be in a 3-dimensional volumetric form or more commonly for housing in open or closed panel form.
Laing O'Rourke is the largest privately owned construction firm in the UK. The Explore Industrial Park in Steetley is at the heart of their commitment to off-site manufacturing. The precast concrete facility, which began production in July 2009, manufactures a range of products including walls, floors, columns and beams for their projects throughout the UK.
Published 28 February 2013