News story
No hidden costs to home improvement
Homeowners will not face red tape when building conservatories and extensions.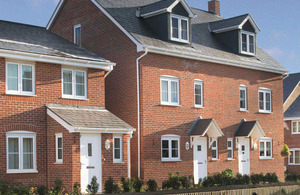 The government today announced that anyone looking to improve their home through measures such as building a conservatory will not be subject to any rules requiring them to carry out additional building works on other parts of the home.
Proposals for 'consequential improvements' - whereby work on one part of a home would trigger a requirement to carry out energy efficiency improvement works throughout, such as the installation of loft or cavity wall insulation - would in fact deter many people from having any work done in the first place, ministers believe.
Communities Secretary Eric Pickles said:
"Having consulted carefully, the government has noted the potential danger that introducing consequential improvements would, in fact, discourage people from undertaking home improvements.
"This measure ensures that it will remain straightforward for hard-working homeowners to undertake small-scale home improvements and conservatories."
In January this year the Department for Communities and Local Government published a consultation paper on reforms to building regulations in England, aimed at providing significant savings to business, whilst ensuring buildings remain safe and sustainable. The consultation asked for views on whether to require 'consequential improvements' to the energy efficiency of a home when other building work such as the creation of extensions, large conservatories, loft and garage conversions was undertaken, or when boilers or a number of the home's windows were replaced.
Although most conservatories would not have been affected by such proposals ministers have carefully considered responses to the consultation, as well as research of the effects on homeowners and building professionals by the Energy Saving Trust and AECOM respectively. The Energy Saving Trust research indicated that over a third of households would be put off from doing home improvements if they had to undertake consequential improvements as well. The research also revealed concerns that there was greater potential for cowboy builders to mislead customers over what consequential improvements would be required.
Given the government's growth agenda and the proposed lifting of planning rules to make it easier for people to carry out sensible extensions and improvements to their home Ministers have decided it would be inappropriate to place an additional cost on building owners. The Green Deal will continue to provide financial incentives to homeowners looking to improve their home's energy efficiency, cut carbon emissions and reduce their long term energy bills.
Further information
Published 13 December 2012