Press release
Ending the tenant tax to help tackle rogue landlords
Housing Minister Brandon Lewis pledged to end the "tenants' tax" that pushes up rents and imposes unnecessary red tape on decent landlords.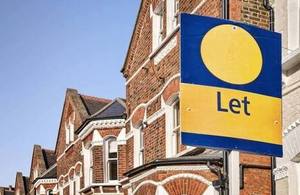 The minister published new rules that will enable councils to licence landlords in neighbourhoods blighted by poor quality accommodation, deprivation and high levels of crime.
But he said he wants councils to work more closely with government on larger licensing schemes to ensure that they don't unfairly hit good landlords offering a fair service.
New proposals mean councils would have more freedom to introduce licensing in specific neighbourhoods within their boundaries – helping to ensure only rogue operators, who make up a small minority of landlords, are affected.
Housing Minister Brandon Lewis said:
The vast majority of private landlords offer a decent service – so I'm determined we end the 'tenants tax' caused by draconian measures that do nothing to tackle rogue operators and only serve to push up rents.

I want councils to take targeted action and focus their efforts on tackling that small number of landlords who make their tenants' lives a misery – and help create a bigger, better private rented sector as a result.
Further information
The government has introduced a number of measures to create a bigger, better private rented sector. These include:
a £1 billion Build to Rent fund to provide newly-built homes specifically for private rent
a How to rent guide so tenants and landlords alike know their rights and responsibilities
a model tenancy agreement so tenants wanting longer tenancies can request one
changes to the law to require letting agents to belong to one of 3 redress schemes, and to publish full details of the fees they charge to tenants
£6.7 million funding to councils across the country to tackle rogue landlords
Regulations currently before Parliament would mean councils could introduce licensing schemes to tackle a wider range of problems caused by rogue landlords.
Any council looking to introduce a licensing scheme covering more than 20% of their area, or 20% of local privately rented homes, would need to get permission from the Communities Secretary. All applications for schemes above that threshold will be assessed on a case by case basis, balancing the interests and views of all parties.
Office address and general enquiries
2 Marsham Street
London
SW1P 4DF
Contact form http://forms.communiti...
General enquiries: please use this number if you are a member of the public 030 3444 0000
Published 12 March 2015