News story
Endangered animals: join #thebigroar to highlight their plight
Presenter Kate Silverton tweets her support for "If They're Gone...." campaign.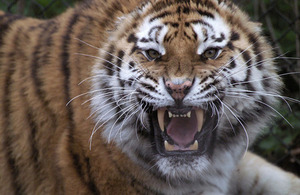 The #TheBigRoar Twitter event sparked a worldwide conversation on endangered species. This event gave the public the opportunity to put their questions to the experts. A summary is available on Storify.
Kate Silverton is supporting the plight of wild rhinos, elephants, tigers and orangutans as part of Defra's twitter event, #thebigroar, on 10 July from 9:15am to 3pm.
As part of Defra's 'If They're Gone…' campaign, Kate will join Environment Minister Richard Benyon and many other organisations in a bid to inspire individuals to take action to help these four iconic species, which are threatened with extinction within our lifetime.
Poaching of elephants and rhinos has now reached unprecedented levels, with the Convention on International Trade in Endangered Species (CITES) estimating that at least 17,000 elephants were killed illegally in Africa alone (2011), but the real figure is likely to be much higher. Their natural habitats are being destroyed at an alarming rate and the demand for traditional Asian medicines, which uses parts of tigers and rhinos, is skyrocketing internationally.
Throughout the day, people can put questions to different organisations who can give a unique insight into the different aspects of species conservation. People will also be able to find out how they can help to save these animals for future generations, because if they're gone, they're gone forever.
The organisations partnering with Defra on #thebigroar are WWF-UK, Zoological Society London, Tusk Trust, TRAFFIC, Helping Rhinos, Interpol and the Environmental Investigation Agency.
To find out more about the 'If They're Gone…' endangered species campaign visit www.facebook.com/IfTheyreGone
At 11:15am the Environment Minister Richard Benyon will be answering questions on conservation and palm oil policy via @DefraGovUK
How to take part
To take part, check out the timetable below and simply get online at the right time and start tweeting questions using #thebigroar to the relevant Twitter name. If you're not sure who to direct your questions to, @DefraGovUK will point you in the right direction.
Timetable and topics each participant would like to cover:
9:15am to 9:30am @DefraGovUK Defra will introduce the day and explain how it works. The @DefraGovUK team will also be there to help direct you to the right person.
9:30am to 10am @HelpingRhinos Helping Rhinos – Covering rhino conservation in Africa and Asia.
10am to 10:45am @wwf_uk WWF-UK – Covering issues around ivory trade as well as the illegal wildlife trade in the UK.
10:45am to 11:15am @EIAinvestigator Environmental Investigation Agency – Covering environmental crime prevention including illegal trade in elephants and tigers as well as illegal timber harvesting which often leads to habitat destruction.
11:15am to 11:45am @DefraGovUK Environment Minister Richard Benyon – Covering policy on endangered species conservation and sustainable palm oil.
11:45am to 12:30pm @TRAFFIC_WLtrade TRAFFIC – Covering illegal wildlife trade and happy to take general questions on the different ways in which parts of endangered animals such as tigers and rhinos are used.
12:30pm to 1pm @TUSKTRUST Tusk Trust – Covering elephant and rhino conservation in Africa.
1pm to 1:45pm @OfficialZSL Zoological Society London – Covering tiger conservation and conservation breeding.
1:45pm to 2:30pm @INTERPOL_EC INTERPOL - Covering questions on illegal trade in endangered species and emerging patterns and trends in international wildlife crime enforcement.
2:30pm to 3pm @katesilverton1 Kate Silverton will be sharing insights into her work in the conservation field and the things she's learnt about endangered animals.
Published 8 July 2013
Last updated 25 July 2013
+ show all updates
Added link to #TheBigRoar storify story.
First published.