End for GCSE modules and spelling, punctuation and grammar marks restored to exams
Ofqual confirms reforms to GCSEs from September 2012.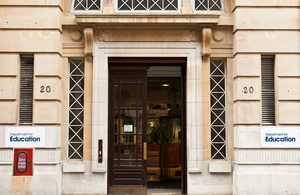 Schools Minister Nick Gibb today welcomed the next steps in restoring confidence to GCSEs as rigorous and valued qualifications.
The independent exams watchdog Ofqual has today confirmed short-term reforms to current GCSEs from September 2012.
It follows plans outlined in last year's White Paper to return exams to the end of each course and stop the culture of re-sits. The changes also mean that students will once again be marked on the accuracy of their spelling, punctuation and use of grammar in GCSEs in key subjects.
The reforms effectively end modular GCSEs. They were introduced widely from 2009 but Coalition Ministers believe they have encouraged teaching to the test and prevented young people achieving a full understanding of the whole subject.
The Government is planning to make longer-term changes to GCSE syllabuses and exam requirements to reflect the new National Curriculum - focusing on the essential knowledge in key subjects and in-depth study.
Under the proposals:
Students starting two-year GCSE courses starting in September 2012 will have to sit their exams at the end of the course in summer 2014.
Pupils will no longer be able to re-sit individual unit exams in order to boost their marks - although they may retake the whole GCSE exam. Students will, however, be given an early opportunity to resit maths, English and English Language GCSEs every November because these are key subjects needed to progress to further study or employment.
Students will be marked on the accuracy of spelling, punctuation and grammar and their use of specialist terms. In the first instance, these will be those subjects that involve extended writing - English Literature, geography, history and religious studies. Five per cent of total marks in these subjects will be for spelling, punctuation and grammar. Marks assessing written communication skills already exist in English and English Language. The changes will affect externally assessed units from September 2012.
Schools Minister Nick Gibb said:
We are taking urgent action to restore confidence in GCSEs - the next step in our overhaul of the wider exam system.
We want to break the constant treadmill of exams and retakes throughout students' GCSE courses - school shouldn't be a dreary trudge from one test to the next. Sitting and passing modules has become the be-all and end-all, instead of achieving a real, lasting understanding and love of a subject. Students shouldn't be continually cramming to pass the next exam or re-sitting the same test again and again simply to boost their mark - then forgetting it all by moving onto the next module immediately.
It was a mistake to abolish separate marks for spelling, punctuation and grammar in GCSEs over the last decade. Employers expect people with high grades to be able to communicate and write effectively, with precision and accuracy. It is right to restore specific assessment of these vital skills.
Notes to Editors
Ofqual consulted on the changes between September 26 and November 4, 2011. A total of 1,261 responses were received. There was broad agreement to the approach set out in the consultation document. A summary of the responses will be on the Ofqual website.

Education Secretary Michael Gove set out plans to reform GCSEs in the Education White Paper The Importance of Teaching - published in November 2011 - which sets out proposals to reform GCSEs and A levels.

A levels are a crucial way that universities select candidates for their courses, so it is important that these qualifications meet the needs of higher education institutions. To ensure that they support progression to further education, higher education or employment, we are working with Ofqual, the awarding organisations and higher education institutions to ensure universities and learned bodies can be fully involved in their development. We specifically want to explore where linear A levels can be adapted to provide the depth of synoptic learning which the best universities value.

The current GCSE and A level system allows for re-sits of modules, which can be seen as undermining the qualifications and educationally inappropriate. In 2008, QCDA collected information from a sample of A levels and found that between two thirds and three quarters of students re-sat at least one unit65. It is our view that this is a cause for concern. We will ask Ofqual to change the rules on re-sits to prevent students from re-sitting large numbers of units. We will consider with Ofqual in the light of evaluation evidence whether this and other recent changes are sufficient to address concerns with A levels.

We believe that it was a mistake to allow GCSEs to be fully modularised, because GCSEs are too small as qualifications to be taken sensibly in small chunks across two years. We also believe that it is creating too much examination entry in secondary schools - with many schools entering pupils for units in years 9 and 10 as well as years 11, 12 and 13. We will therefore ask Ofqual to consider how best to reform GCSEs so that exams are typically taken only at the end of the course.

When young people compete for jobs and enter the workplace, they will be expected to communicate precisely and effectively so we think that changes in the last decade to remove the separate assessment of spelling, punctuation and grammar from GCSE mark schemes were a mistake. We have asked Ofqual to advise on how mark schemes could take greater account of the importance of spelling, punctuation and grammar for examinations in all subjects.
DfE enquiries
Central newsdesk - for journalists 020 7783 8300
General enquiries - for members of the public 0370 000 2288
Published 14 December 2011