Press release
Employment Allowance boost for business - bill introduced to Parliament
From April 2014, the National Insurance Contributions Bill will deliver a £2,000 a year tax cut for businesses and charities.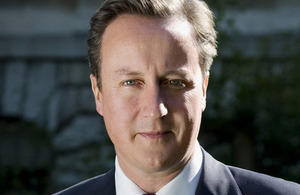 As the National Insurance Contributions Bill is introduced to the House of Commons, the Prime Minister is today visiting small businesses in the East of England to hear about the issues that matter to them and highlight what the government is doing to support them.
The Bill contains legislation for the Employment Allowance which, from April 2014, will give businesses and charities a £2,000 tax cut off their National Insurance Contributions bill.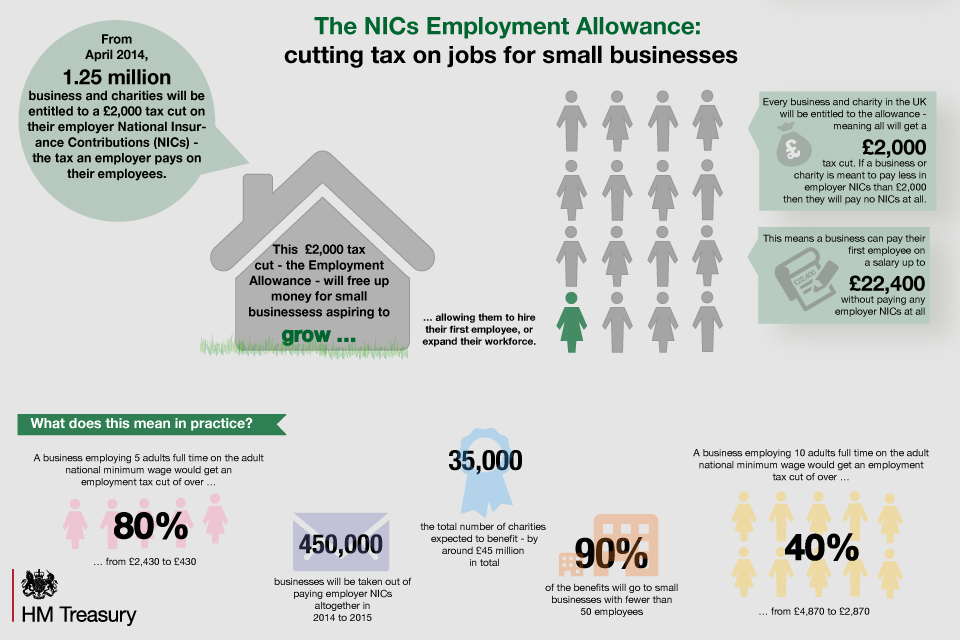 Benefiting up to 1.25 million businesses, this action taken by the government will result in around 450,000 businesses – or one third of all employers – being taken out of paying National Insurance Contributions altogether.
The Employment Allowance will be of greater benefit to small businesses, as it will reduce their National Insurance Contributions bill the most. Over 90% of the benefit of this allowance will go to small businesses with fewer than 50 employees.
This will also mean that businesses will be able to employ four adults or ten 18-20 year-olds full-time on the National Minimum Wage without paying any employer National Insurance contributions at all.
PM sets out further action to tackle late payments to small business
The government is also aware that late payment continues to be a big problem for many of our small and medium sized businesses with 85% saying that they have experienced this over the last two years.
In further action taken by the government to target this issue, the Prime Minister is also announcing that the government will be launching a consultation on tackling late payment later this year where we will be calling for views on a range of questions including:
How we can encourage greater oversight and responsibility for payment policies at senior management and board level.

What can be done to increase transparency around which companies are good payers and which ones are not.

How the Prompt Payment Code can be strengthened, and whether there is more that can be done to hold companies to account against it.

Whether more can be done to enforce existing legislation, including the provisions on payment terms – for instance the prohibition of 'grossly unfair' payment terms.

What can be done to encourage more companies to make use of their existing statutory right to interest for late payments.

Whether there is a case for further legislation or penalties.

Whether government can do more to help SMEs to help themselves, including through new technologies and services like electronic invoicing and mobile payments.
On Employment Allowance, Prime Minister David Cameron said:
As I said earlier this month, it's businesses that get wages in people's pockets, food on their tables, hope for their families and success for our country. Small business and entrepreneurs are the lifeblood of our economy and this government is firmly on their side. An ambitious and thriving small business sector is vital for steering the economic recovery in the right direction and helping us to succeed in the global race.

We are determined to do everything we can to ensure that our small firms can be successful and prosperous and people can fulfil their aspirations. The Employment Allowance, which will benefit up to 1.25 million businesses and result in around 450,000 businesses seeing their employers' National Insurance contribution payments stop completely, is another example of the action that this government is taking to back small businesses and help people get on. Last week, we helped people get on the housing ladder and own shares. This week, we're helping small businesses start and expand. This government is one hundred percent backing people who work hard and want to get on in life. And we're going to finish the job we started".
On tackling late payment, Prime Minister David Cameron said:
It's not right that suppliers are not getting paid on time for the work they do and the services they provide and I know that late payment can have devastating effects on our small and medium sized businesses. I am determined to make Britain the best place to start, grow and do business and to back people who want to work hard and get on. The government has already taken steps to help address this issue but I am clear that more needs to be done to build a business culture across all sectors of the economy that sees the fair, prompt and reliable payment of suppliers become a core corporate responsibility which is taken seriously at the most senior levels.
Katja Hall, CBI Chief Policy Director, said:
Late payment is a serious issue for all businesses but particularly for smaller firms, as cash flow is their life blood. Businesses already have a number of routes for recourse if they are paid late, but the reality is that few choose to act on late payment for fear of fall out with their customers. The CBI backs the Prompt Payment Code but there are also other ways of addressing late payment – for example some suppliers will choose to work with customers through supply chain finance agreements. As the voice of small, medium and large businesses, the CBI welcomes this consultation and looks forward to working closely with government to improve payment terms in the UK.
John Allan, National Chairman, Federation of Small Businesses, said:
The NICs Employment Allowance is a measure our members have warmly welcomed. It will have a positive impact on small firms and the economy when it comes into force next spring. Our members have said they'll spend the savings on their business, either through investing in the business, increasing wages or taking on staff.

Late payments is an increasing issue for our members. Being paid late or given extended terms can severely hamper many small firms. They simply don't have the same cash-flow buffer as a large businesses, so being paid on time can be the difference between being able to pay staff and not. Furthermore, when a small firm is paid late they then can become late payers themselves. We therefore welcome the focus this important issue is now receiving and look forward to putting the views of our members forward in the consultation, in particular to strengthen the government's Prompt Payment Code and make it enforceable.
Ms Lee Hopley, Chief Economist at EEF, the manufacturers' organisation, said:
Payment terms can be a major issue for smaller firms, particularly given the financing constraints and uncertainty they face. Given the link between this and weak investment, government continues to face questions about what further action is needed on payment terms. We therefore welcome further efforts to provide more visibility on current practices and the extent to which particular challenges may be impacting on companies.
Notes to Editors:
On Employment Allowance:
The Employment Allowance will be introduced from April 2014, delivered through standard payroll software and HMRC's Real-Time Information system.

To ensure maximum take-up, it will be simple to administer: employers will only need to confirm their eligibility through their regular payroll processes. This confirmation will ensure that up to £2,000 will be deducted from their employers' NICs liability over the course of the year's PAYE payments.

Businesses, charities and Community Amateur Sports Clubs will be eligible for the new Employment Allowance. Up to 35,000 charities with employees are expected to benefit from the Employment Allowance, by around £45 million a year in total.

The Employment Allowance calculator allows you to see the effect of the Employment Allowance in 2014. For example, you can see the effect on your National Insurance Contributions bill of employing one additional person or you can look at the reduction to your current National Insurance Contributions payments.
On late payment consultation:
Late Payment Statistics in the UK
Total amount owed to SMEs (Data from BACS):
| Year (of report) | Total late payments owed to SMEs |
| --- | --- |
| 2013 | £30.2 billion |
| 2012 | £36.4 billion |
| 2011 | £33.6 billion |
Experience of SMEs
From a YouGov poll of 1100 SME decision makers commissioned by Barclays:
85% had experienced late payment over the last two years

Around a fifth (22%) had declined to do future business with a business that has paid late in the past

30% of respondents who had experienced late payments had had to use personal money or assets to boost their cash flow

For 11%, late payment had nearly caused their business to fail

66% of respondents who had experienced late payment said that on average they had had to wait more than a month past the agreed payment terms for a bill to be paid, whilst 11% said that they had had to wait more than six months
Comparison with other countries (figures drawn from European Payment Index 2012)
| Country | Average B2B payment term in days | Average B2B payment duration in days |
| --- | --- | --- |
| UK | 25 | 44 |
| Sweden | 28 | 35 |
| Spain | 70 | 97 |
| Italy | 65 | 96 |
| Germany | 25 | 35 |
| France | 40 | 57 |
| Finland | 20 | 27 |
Government has created a number of mechanisms to support suppliers that are affected by late payment:
All businesses that are paid late have a statutory right to charge interest.

If they are part of a supply chain working on a public sector contract they can provide details of their complaint to the Cabinet Office Mystery Shopper scheme and it will then be investigated further.

Anyone can challenge a signatory of the Prompt Payment Code by providing details on a challenge form that can be found on the Prompt Payment Code website. They don't have to share their identify with the signatory unless they want to. Challenges will be looked into by the Institute for Credit Management who can remove signatories if this is justified.

There are also other sector based mechanisms - e.g. the Groceries Code Adjudicator has statutory powers to make sure that supermarkets treat their suppliers lawfully and fairly.

The recent consultation on making public procurement more accessible to SMEs considers what could be done to ensure that prompt payment is consistent throughout the public sector supply chain.
Government action to tackle late payment in the construction sector
We are aware and understand that late payment is a particular issue in the construction industry. A number of regulatory methods have already tried to address this:

The 1996 Construction Act banned things like "pay when paid clauses" in construction contracts and introduced a right to adjudicate contractual disputes. In 2011, the Construction Act was amended make it more difficult to frustrate its intent.

The government has committed to ensuring fair payment across all its construction projects, whether this is done through transparent and auditable 30 day payment terms or through the setting up of a Project Bank Account (PBA).

Since December 2010, on government contracts, where PBAs are not being used, Tier 1 contractors have been obliged to pay to Tier 3 in 30 days, in line with the Government's Prompt Payment Code.

On Project Bank Accounts, the government has committed over £2 billion of project spend via PBAs to date, with payment reaching tier 3 contractors (many of whom are SMEs) within five business days.

We are working with the construction industry and the Institute of Credit Management to develop a fair payment charter for construction for consideration by the Construction Leadership Council. (The Council was set up as a result of the launch of the joint industry / Government Construction Strategy on 2 July).
Supply Chain Finance
We are working to improve SME access to working capital and have been doing this in a number of ways, including investment in innovative invoice finance platforms through the Business Finance Partnership.

We are keen to see companies put in place supply chain finance programmes to give their suppliers an additional source of working capital that they can make use of if they wish to. The provision of such as scheme is not an excuse to lengthen payment terms.

Supply Chain Finance, now being deployed in the healthcare, defence and construction sectors, enables the balance sheets of prime contractors to be used to facilitate the financing of payment to supply chain members where this would not otherwise have been affordable or available. This scheme offers the opportunity for cash to be released to the supply chain in advance of contracted payment terms.
Published 14 October 2013