Employers to design their own apprenticeships
Government responds to the Richard Review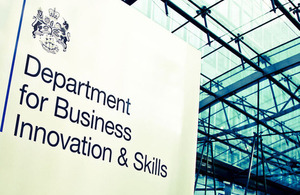 Employers will be empowered to design and develop their own Apprenticeship standards and qualifications, so they can address skills shortages that are threatening growth, Deputy Prime Minister Nick Clegg announced today.
The entrepreneur Doug Richard carried out a review last year which called for the quality of Apprenticeships to be improved. He also said Apprenticeships should be more focused on the needs of employers as some businesses find they are not tailored enough to their requirements, with many citing this as the main barrier to taking on an Apprentice.
The government's response sets out its plan to redefine Apprenticeships to build on their success and make them among the best in the world. It will also raise standards, overhaul qualifications, assessment and delivery, and place Apprenticeships firmly in the hands of employers. Employers from car manufacturers to accountancy firms will be able to directly design the Apprenticeships that suit their business – working with training providers to give Apprentices the skills they need to do the job, in the office or on the factory floor.
The government's plans include:
employers putting recognised and meaningful industry standards at the heart of every Apprenticeship. This will help employers who say Apprenticeships are not sufficiently tailored to their needs, or relevant to their sector, acting as the biggest barrier to hiring an apprentice [CIPD research Sept 2012]
every Apprenticeship should be targeted at a skilled job, involving substantial new learning that will provide the foundations for a career and a springboard for progression
training and accreditation of existing workers who are already fully competent in their jobs should be delivered separately
Apprenticeships should be focused on the outcome: clearly setting out what Apprentices should know and be able to do at the end of their Apprenticeship
Apprenticeships will move to a final holistic test which has the full confidence of employers
all Apprentices will work towards a level 2 qualification either through GCSEs or functional skills in English and maths, from August 2014, if they have not already achieved this.
Speaking at White Light, an entertainment lighting specialist company that is tailoring its Apprenticeships to its needs, Deputy Prime Minister Nick Clegg said:
Apprenticeships are at the heart of our drive for a stronger economy, equipping people of all ages with the skills employers need to prosper and compete, often in a global market. They give hard-working young people the chance to aim high for their dream job.
Most employers say that apprentices improve productivity. So it's vital that Apprenticeships are tailored around what employers want, allowing them to design their own qualifications and choose their own training provider, rather than getting a one-size-fits-all programme that's bad for apprentices and bad for employers.
Business Secretary Vince Cable said:
When I travel around the country, businesses frequently tell me that if they are not able to respond quickly to skills shortages they lose out on vital business.
These plans will radically change the way we deliver Apprenticeships. They will put employers in the driving seat so they can develop the workforce they need to grow their business.
Education Secretary Michael Gove said:
Doug Richard set out a compelling plan to drive up the quality of Apprenticeships and involve employers more closely in their design. We must ensure that every Apprenticeship includes qualifications and assessment which meet a high standard and command the confidence of employers.
Only serious reform will allow us to raise the status of Apprenticeships. I am very grateful to Doug for his review and look forward to receiving the views of the public on the proposals.
Skills Minister Matthew Hancock said:
We firmly agree with Doug Richard's assessment of the challenges and opportunities ahead for Apprenticeships, and his recommendations to reform the programme in pursuit of rigour and responsiveness.
Now we've set out our plans, we want to hear from employers, educators, apprentices and others in the further education and skills sector to help us design and implement these changes.
Nigel Whitehead, Group Managing Director of BAE Systems plc said:
Skills and attracting new talent are critical to business success. Young people are our workforce of tomorrow and bring new thinking into how we do things.
As a former apprentice, I have benefited from this approach, and I welcome the resurgence of Apprenticeships that support high quality training and help young people to settle into the company ethos and progress into great careers.
The government has today published a consultation and welcomes views on the recommendations. The consultation response can be submitted via The Future of the Apprenticeships in England: Next Steps - response form.
Notes for Editors
1.The government's response The Future of Apprenticeships in England: Next Steps from the Richard Review sets out the government's long term vision for Apprenticeships, together with its proposals for achieving this. The consultation will run until 22 May 2013.
2.The independent review undertaken by Entrepreneur and Educator Doug Richard was published on 27 November 2012 and can be found at The Richard Review of Apprenticeships in England.
3.The government's economic policy objective is to achieve 'strong, sustainable and balanced growth that is more evenly shared across the country and between industries'. It set four ambitions in the 'Plan for Growth' (PDF 1.7MB), published at Budget 2011:
to create the most competitive tax system in the G20
to make the UK the best place in Europe to start, finance and grow a business
to encourage investment and exports as a route to a more balanced economy
to create a more educated workforce that is the most flexible in Europe.
Work is underway across government to achieve these ambitions, including progress on more than 250 measures as part of the Growth Review. Developing an Industrial Strategy gives new impetus to this work by providing businesses, investors and the public with more clarity about the long-term direction in which the government wants the economy to travel.
Published 14 March 2013