Press release
Elton and Public Health England join forces on World AIDS Day
Sir Elton John and PHE have joined forces for World AIDS Day to address the issue of late diagnosis.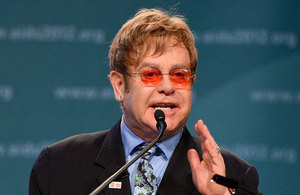 The Elton John AIDS Foundation and Public Health England (PHE) have today (1 December 2014) announced that they will be working in joint collaboration on an exciting project that will address the issue of late diagnosis of people with HIV.
The jointly funded project, which will aim to reduce the number of people with HIV who don't know they have the disease, will look at areas of the country where numbers of people without a diagnosis are high and how new innovative ways of working can contribute to changing the situation.
A new report published by PHE, in advance of last week's National HIV Testing Week, showed that there are now nearly 110,000 people living with HIV in the UK. Around a quarter of these (26,100) are unaware of their infection and at risk of passing on the virus to others through unprotected sex.
Talking about the initiative Sir Elton John, said:
I can't overstate the importance of testing for HIV to ensure an early diagnosis. HIV testing has never been easier and I am passionate that as many people as possible are tested, particularly in groups with increased risk, as early as possible and this is why this project is particularly exciting.

It is not good enough that a quarter of people with HIV are unaware they have it; by identifying and supporting these people we will make progress in tackling this epidemic.
Health Secretary Jeremy Hunt said:
There has been huge progress in tackling HIV but World AIDS day reminds us that we still face big challenges. Prevention and reducing transmission is our priority and we must make sure that testing is easily accessible, particularly for those at highest risk.

The Elton John AIDS Foundation is internationally renowned for its work on HIV. Their collaborative work with Public Health England to increase the numbers of tests for HIV from some of our highest risk groups will be an important contribution to our wider sexual health strategy.
Jane Anderson, expert advisor for HIV, sexual and reproductive health at PHE said:
People diagnosed promptly with HIV infection can expect to live long and healthy lives.

However, in 2013 people diagnosed with HIV late were 10 times more likely to die in the first year of diagnosis compared to those diagnosed promptly. Joint working such as this is key to raising awareness to people who remain unaware of their infection so they are also at risk of transmitting HIV to others.

We are continuously looking at new, innovative ways of working which will not only reduce the long-term cost of care, but also have a significant impact on public health.
Notes to Editors
Read the full HIV in the UK 2014 report.
Infections press office
PHE press office, infections
61 Colindale Avenue
London
NW9 5EQ
Photo courtesy of Elton John Foundation.
Published 1 December 2014