Eight thousand patients to benefit from advanced cancer treatment
£15 million unveiled to rollout across the NHS.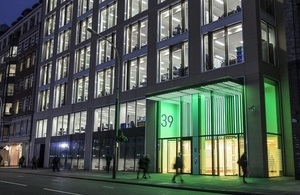 Almost 8,000 more cancer patients a year could benefit from the rollout of an advanced radiotherapy technique with fewer side effects thanks to a £15 million investment unveiled today by the Prime Minister David Cameron and Health Secretary Jeremy Hunt.
The Cancer Radiotherapy Innovation Fund will expand the NHS' capacity to deliver life-saving advanced radiotherapy techniques to those who need them by April 2013.
The money will be used to speed up the use of Intensity Modulated Radiotherapy (IMRT) across the NHS so that more cancer patients can benefit from it from next April.
The technique targets more precise doses of radiation at a tumour, while minimising the impact on surrounding healthy tissue. It is particularly beneficial for patients with head and neck cancers, reducing the likelihood of side effects like damage to salivary glands, which make it difficult to enjoy and digest food.
The move comes as new figures show that the great majority of the 50 radiotherapy treatment centres across England are not using this technique for all the patients for whom it is clinically appropriate and who would benefit.
Radiotherapy experts will work with Cancer Research UK and the relevant professional bodies to help designated radiotherapy centres to adopt this new technique by providing support and training and helping them to bid for funding that can be used to deliver the services safely and at the right levels.
This builds on the success of the Cancer Drugs Fund which has already benefitted over 21,000 patients. The £15 million radiotherapy innovation fund will cover the remainder of 2012-13.
From April 2013, we will be able to guarantee access to innovative radiotherapy where clinically appropriate, safe and cost effective. Because cancer treatments will be planned and paid for nationally by the NHS Commissioning Board, for the first time cancer patients will be considered for the most appropriate radiotherapy treatment regardless of where they live. For example, this means that all patients with brain tumours who needed stereotactic radiosurgery would have equal access to this treatment.
Prime Minister David Cameron said:
"We're making sure that more people get the drugs and treatments they need. We are making £15 million available straightaway to make sure our NHS staff are trained to give treatments like this. We already have a guarantee for drugs - that if they're safe, cost-effective and doctors say you need them, you will get them. From April 2013, for the first time ever, we're extending that guarantee to radiotherapy too. This is going to help thousands of people at one of the hardest times of their lives."
Health Secretary Jeremy Hunt said:
"We want to make sure that cancer services in England are world class and that NHS patients receive the best quality treatments that are available.
"For too long our cancer survival rates have lagged behind other comparable countries. We have already committed to improving survival rates, saving an additional 5,000 lives per year. In addition, we want to make sure that cancer survivors have as good a quality of life as possible, minimising possible side effects.
"Radiotherapy is one of the most clinically and cost-effective treatments for cancer and this funding will bring our additional investment in radiotherapy over the Spending Review period to £165 million."
Notes to editors
For further information Department of Health press office on 020 7210 5281.

The fund will be managed by the National Radiotherapy Implementation Group working closely with CRUK.

The Cancer Radiotherapy Innovation Fund will be funded from any underspend arising from the Cancer Drugs Fund in 2012-13. If the Cancer Drugs Fund does not generate an underspend in 2012/13, the Cancer Radiotherapy Innovation Fund will be funded from underspends arising on other budgets.
Published 8 October 2012