Eight free schools have business plans approved
Details of 8 free school proposals that had advanced to pre-opening stage by January 2011.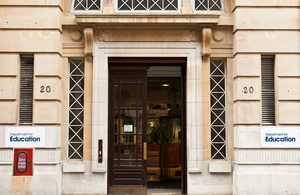 Michael Gove has today announced that 8 proposals to set up free schools have now progressed from business case and plan stage to the pre-opening stage - the final stage before opening.
The Secretary of State for Education made the announcement when addressing the first ever national free schools conference, where he was joined by US education experts and teachers.
The conference brings together ministers and more than 400 parents, teachers, charities and other groups from across the country that are planning to set up free schools.
The 8 proposals include Stour Valley Community School in Suffolk, which was approved earlier this month.
The other seven are based in London, West Sussex, Norwich and Leicester. They are:
ARK Conway, Hammersmith and Fulham
Discovery New School, West Sussex
Etz Chaim, Barnet
The Free School, Norwich
I-Foundation, Leicester City
St Luke's Church of England Primary School, Camden
Woodpecker Hall, Enfield
Free schools will be set up by a wide range of proposers including charities, educational groups, teachers and groups of parents. They are set up in response to parental demand, and will improve choice and drive up standards for all young people regardless of their background. Free schools will enjoy the same freedoms and flexibilities as academies.
More information about the process of setting up a free school is available on the Department for Education's website.
DfE enquiries
Central newsdesk - for journalists 020 7783 8300
General enquiries - for members of the public 0370 000 2288
Published 29 January 2011