Efforts to tackle gonorrhoea treatment resistance under threat
New PHE data suggest a slowdown in emerging gonorrhoea resistance to first-line treatments in 2012.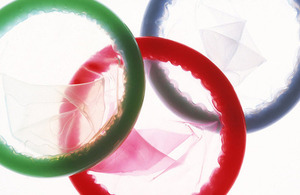 Experts believe significant public health efforts, coupled with a successful recent switch in prescribing guidelines, have been effective in targeting previously circulating strains that were less responsive to treatment. However, a worrying picture of ongoing gonorrhoea transmission and co-infection continues to emerge.
Today's findings show, for the second year, cefixime resistance risk declined in England and Wales - with around a 50% drop in tests showing decreased susceptibility to this second-line treatment in 2012. Further, azithromycin resistance only increased from 0.5 to 0.7% of laboratory tests, and very little drift towards potential resistance to ceftriaxone was seen.
However, the report also gives cause for concern, as analyses found a fifth of all diagnoses in 2012 were repeat cases and around 4 in 10 cases had chlamydia as well as gonorrhoea. Over a quarter of people with gonorrhoea also had HIV, reaching 40% amongst men who have sex with men (MSM). Total new gonorrhoea diagnoses in England jumped 21% to 25,525 cases in 2012, reported earlier this year.
Professor Cathy Ison, leading the PHE gonorrhoea resistance surveillance programme, said:
Whilst the resistance data are better than expected, they can only represent a temporary reprieve. We must continue to be vigilant as multidrug resistant gonorrhoea strains are being identified across the world and there are limited antibiotics in the pipeline. An ongoing focus on prompt gonorrhoea diagnosis, adherence to prescribing guidelines and the effective identification and management of potential treatment failures, is crucial.
Dr Gwenda Hughes, PHE head of sexually transmitted infections surveillance, said:
Reducing gonorrhoea transmission is also essential, because for every case we prevent we eliminate the associated risk of treatment failure. However, in 2012 we saw another large rise in new gonorrhoea diagnoses, and are particularly concerned about the high infection rates amongst men who have sex with men, and young adults in some urban areas. These findings reinforce the importance of continued sexual health promotion work and maintaining easy access to sexual health services and testing in England.
In February 2013, the first 'Gonorrhoea Resistance Action Plan for England and Wales' was published, to support public health control of gonorrhoea and gonorrhoea resistance. Following this, the government's 5 year antimicrobial resistance strategy was published in September 2013, setting out national and international action on treatment, education and monitoring.
To combat the continuing high rates of STI transmission in England, and the growing risk of gonorrhoea treatment resistance it is also essential that individuals:
always use a condom when having sex with casual and new partners
reduce the number of sexual partners and avoid overlapping sexual relationships
get a regular STI check-up if having unprotected sex with new or casual partners
Notes to editors
The Gonococcal Resistance to Antimicrobial Surveillance Programme (GRASP) was established in 2000. Further information is available from the website.

The Gonorrhoea Action Plan for England and Wales (2012) produced by PHE, in partnership with Public Health Wales, the British Association of HIV and Sexual Health and Terrence Higgins Trust, provides the strategic framework for a national response to gonorrhoea treatment resistance, as part of the global response initiated by WHO and The European Centre for Disease Prevention and Control (ECDC).

GRASP 2012: samples collected from across July to September 2012 in England and Wales. 3177 gonorrhoea diagnoses were reported Characteristics of the total number of patients diagnosed with gonorrhoea (3,103) in GUM clinics in England:

MSM: 61%, Heterosexuals: 39%
White ethnic background: > 65%
Within 25 to 34 years old: > 35%
Two or more partners in last 3 months: >60%

The increase in new gonorrhoea diagnoses seen between 2011 and 2012 may be partially attributed to increased screening for extragenital infection (especially pharyngeal infection) in high risk groups and increased use of more sensitive nucleic acid amplification tests (NAATs) for the diagnosis of gonorrhoea. PHE STI 2012 data for England are available.

Ensuring the usefulness of currently recommended antimicrobial agents is essential while new agents are being investigated. Two antibiotic combinations using existing drugs – injectable gentamicin in combination with oral azithromycin and oral gemifloxacin in combination with oral azithromycin are in different phases of clinical trial.

British Association of Sexual Health and HIV: UK national guideline for the management of gonorrhoea in adults (May 2011), available in 'Int J STD AIDS'. 2011;22(10):541-547.

Public Health England's mission is to protect and improve the nation's health and to address inequalities through working with national and local government, the NHS, industry and the voluntary and community sector. PHE is an operationally autonomous executive agency of the Department of Health. www.gov.uk/phe Follow us on Twitter @PHE_uk.
UKHSA press office: National Infection Service
UKHSA press office, infectious diseases
61 Colindale Avenue
London
NW9 5EQ
Published 30 October 2013