Press release
Ed Smith confirmed as Audit Committee Chair of NHS Commissioning Board Authority
Ed Smith confirmed as Non Executive Director of the NHS Commissioning Board Authority with responsibility for Chairing the Audit Committee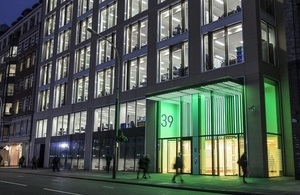 Ed Smith has today been confirmed as Non Executive Director of the NHS Commissioning Board Authority with responsibility for Chairing the Audit Committee. He will take up post today.
Health Secretary Andrew Lansley said:
"I am delighted that Ed Smith will join the NHS Commissioning Board and bring his expertise to the table.
"As the Chair of the Audit Committee, Ed Smith will provide a vital contribution to the organisation's assessment and management of risks. This is a very important role which carries significant responsibilities and I am confident that he is the right person for the job."
Chair of the NHS Commissioning Board Authority, Professor Malcolm Grant said:
"I look forward to working together with Ed Smith as we take forward the establishment of this vital organisation with colleagues across health and social care. The creation of a brand new organisation is no small task, but I strongly believe that a clinically-led, patient-focused commissioning system will bring real improvements in outcomes for all. 
The NHS Commissioning Board's central role will be to drive improvement in results for patients, ensuring a fair and comprehensive service across the country. It will also promote the NHS Constitution and champion the interests of patients, using choice and information to empower people to improve services.
Accountable to the Secretary of State via an annual mandate, the NHS Commissioning Board will be an independent, statutory body, free to determine its own organisational shape, structure and ways of working.
The Secretary of State will remain responsible for promoting a comprehensive health service; and retains the ultimate accountability for securing the provision of services, through his relationship with NHS bodies.
The NHS Commissioning Board will become officially operational subject to the Health and Social Care Bill.
ENDS
Notes to editors
For media enquiries please ring the Department of Health newsdesk on 0207 210 5221.
Ed Smith has a very strong senior non-executive background with extensive senior level finance experience.  As Chair of the Student Loans Company, Chair and Pro-Chancellor of the University of Birmingham, Deputy Chair of Higher Education Funding Council for England (HEFCE) and non executive member of the Department for Transport Board he has operated successfully in national public sector bodies and has a clear understanding of the particular challenges these present.  He was formerly Global Assurance Chief Operating Officer and Strategy Chairman of Price Waterhouse Coopers.  Amongst his many public roles, he is Chairman of World Wildlife Fund (WWF) -UK and a member of its International Board & Audit Committee.
The appointment has been made in accordance with the code for public appointments, issued by the Commissioner for Public Appointments.  All appointments are made on merit and political activity plays no part in the selection process. However, in accordance with the original Nolan recommendations, there is a requirement for appointees' political activity (if any declared) to be made public.  Ed Smith has declared no political activity.
Ed Smith holds the following other public appointments:2010 - Chair Student Loans Company;
2010 - Chair and Pro-Chancellor, University of Birmingham;
2009 - Board Member, Department of Transport;
2009 - Member UK Competition Commission;
2008 - Chair, WWF UK and Member WWF International Board;
2008 - Chair, British Universities & Colleges Sport;
2008 - Member, of Council & Treasurer, Chatham House;
2008 - Member, Commission for Future of Women's Sport;
2008 - 2010 - Board Member and Treasurer - DEMOS;
2007 - 2010 - Board Member and Treasurer, The Work Foundation;
2007 - Deputy Chair, Managing Partners Forum;
2004 - 2011 - Board Member (and Deputy Chair) HEFCE; and
2001 - Board Member, Opportunity Now (BITC)
The role is remunerated at a rate of £13,136 for around 2 days per month, with any further remuneration paid at a pro-rata rate for additional days. The rate may be subject to change following the conclusions of a review, taking place over Winter 2011/12.
For further information on the NHS Commissioning Board click here
For further information on the appointment process of the Chair click here.
For further information on the Health and Social Care Bill click here.
Published 9 November 2011