News story
Economic boost for Arab Spring countries
Helping Arab countries move towards more open and inclusive economies and societies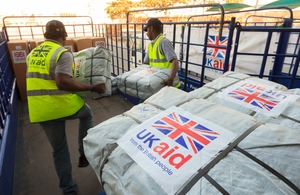 Economic reform and development in Arab Spring countries has been given a £34 million boost in international support by international and regional support for projects that drive institutional reform, prosperity and growth.
The new funding allocations came at a meeting of G8, Gulf donors and Arab transition countries co-chaired by the UK and opened by International Development Minister Alan Duncan.
The allocations come from the MENA Transition Fund, set up under the Deauville Partnership to provide grants to support economic and political transitions in Arab Spring countries including Yemen, Egypt, Jordan, Tunisia, Libya and Morocco.
The move more than doubles funding allocated from the fund to date, with nearly £67 million now approved for 24 projects.
The third G8 Deauville MENA Transition Fund meeting, held on Wednesday 15 May, brought together 32 representatives from Gulf countries, G8 partners and Arab transition countries, as well as representatives from a range of international financial institutions.
The 11 projects approved at the meeting will help countries move towards more open and inclusive economies and societies demanded by Arab Spring protestors.
Projects will help to create jobs and get young people into work, for example by developing the small and medium sized enterprise sector in Libya, funding a new special industrialised zone in Yemen and a focus on the industrial waste management sector in Egypt. Projects will support at least 400 small and medium enterprises and create over 1,000 jobs.
Social safety net reform projects will help protect the poorest people in Egypt and Tunisia, including 235,000 of the poorest households in Tunisia. Regional integration will be boosted by a project to reduce trade and tariff barriers in Egypt, Jordan and Morocco.
Speaking at the opening of the meeting, Alan Duncan said:
This fund is, in many ways, a unique mechanism. It puts Arab transition countries into the driving seat.
The Deauville Partnership set up the Fund to support successful economic and political transitions. These reforms will help drive prosperity and growth for everyone, unlocking new investments and underpinning economic stability in the region.
The UK is now preparing for the next steering committee meeting, most likely to take place in November. The run up to that meeting will see a continuing focus on generating further resources for the fund with the aim of reaching the £165 million ($250 million) funding target.
For more information about the Deauville Transition Fund please visit the website www.menatransitionfund.org
Published 22 May 2013