Press release
Eastbourne to receive £2 million from government after pier fire
David Cameron and George Osborne announce support to help Eastbourne's tourism industry.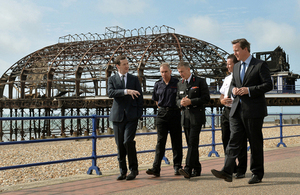 Up to £2 million to help Eastbourne's tourism industry recover from the loss of their pier earlier this week, was announced today by the Prime Minister David Cameron and Chancellor of the Exchequer George Osborne on a visit to the town.
The blaze broke out on Wednesday afternoon severely damaging around a third of the structure with the main roof completely destroyed. The Victorian pier was built in the 1870s and is home to a number of gift shops, bars and restaurants.
The PM and Chancellor also announced an extra £3 million for the Government's Coastal Communities Fund to encourage growth and create jobs in coastal towns.
The announcement of extra funding comes as Coastal Communities Minister Penny Mordaunt named 10 coastal towns who will receive £8.5 million from the Fund in the latest round of applications. The money will be used to boost the tourism, regenerate historic sites and provide new flood defences.
Prime Minister David Cameron said:
The government is absolutely committed to supporting coastal towns, and through our long-term economic plan we are creating jobs and boosting tourism. Schemes like our Coastal Communities Fund are helping them to reach their full potential.

I know that the loss of one of Eastbourne's most prominent and well-loved landmarks will have hit the town hard and I am determined to do all I can to help local businesses recover.
Chancellor George Osborne said:
Eastbourne Pier is a much loved local attraction and this fire is devastating news.

I am therefore delighted to be able to provide financial support so we can minimise the effect on business and tourism.

We will work with Eastbourne as a matter of urgency to ensure that the funding is provided without delay so people can start enjoying the pier again.
The Coastal Communities Fund was launched in 2012 to invest in seaside towns and villages, helping them achieve their economic potential, reduce unemployment and create new opportunities for young people in their local area. The scheme is helping seaside towns make the most of their potential by diversifying their economies and industries so they become year-round success stories. To date £54 million has been spent, supporting around 7,500 jobs, more than 300 new business start-ups and more than 1,400 training places.
For more information on the Coastal Communities Fund please contact the DCLG press office on 030 3444 1201.
Published 1 August 2014