Press release
DVLA publishes three year vision
The DVLA today published its strategic plan outlining its goals and direction for the next three years.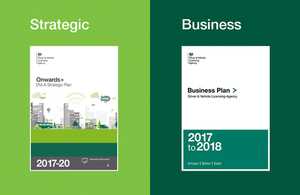 The strategic plan focuses on 5 main themes:
providing best-in-class services to our customers
building dynamic technology and services
being a hub for digital motoring
creating a modern workplace with the right people with the right skills for the future
providing unrivalled safety, security and compliance
Oliver Morley, DVLA Chief Executive, said:
Our goal is to get the right drivers and vehicles taxed and on the road as simply, safely and efficiently as possible. The last year has been one of great achievements and significant change for DVLA and has put us in a strong position to deliver better, simpler services to motorists. Our focus remains on providing best-in-class customer service for the motorist.

The strategic plan we have published today will form the basis of every decision we make going forward.
The business plan for 2017-18, which was also published today, will set out DVLA's key performance measures and financial forecasts for the year.
Press office
DVLA Press Office
Longview Road
Morriston
Swansea
SA6 7JL
Email press.office@dvla.gov.uk
Monday to Friday 8:30am to 5pm - only for use by journalists and the media: 0300 123 0791
Out of office hours - only for use by journalists and the media: 0300 123 2407
Published 30 March 2017