Driving solutions in Somalia
Minister for Africa Henry Bellingham supports the increase in the number of troops in Amisom and explains why we must not force a solution on Somalia.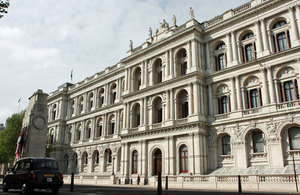 The Minister highlighted these points during his visit to Africa which has included visits to the Democratic Republic of Congo and Uganda for the African Union Summit. He is concerned over the instability in Somalia not just for the horn, but the whole, of Africa.
Henry Bellingham in Uganda: the African Union and Somalia He emphasised the need for the international community to offer support to Somalia in his interview with for the Today Programme on BBC Radio 4.
'I think one of the positive aspects of this conference here at the AU is the extent to which other African countries have realised that Somalia is not just a problem for the Horn of Africa but a problem for the whole of Africa. And I have detected a willingness on the part of other countries to contribute to Amisom.'
In a video diary for the FCO website, Henry Bellingham said:
'We feel very strongly that after the bombings in Kampala and the instability in Somalia, the threat to British interests through the piracy and the terrorism, we've got to up the game as far as Somalia is concerned.
I'm delighted that more troops are going to be sent to Amisom, and that there's going to be more involvement from the international community and a real effort to try and find a solution to that troubled country.'
Published 26 July 2010