'Don't just screen, intervene': improved guidance to improve the health of people living with a mental illness
The updated Lester Tool is part of PHE's work to support people to live well for longer.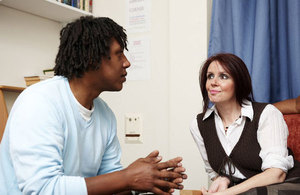 Public Health England (PHE), NHS England, NHS Improving Quality and the National Audit of Schizophrenia have co-produced an updated version of the Lester UK adaptation of the positive cardiometabolic health resource guidance for healthcare and public health professionals to help improve the physical health of people with mental illness. The tool builds upon the original resource, released in 2012 from a collaboration between the Royal College of General Practitioners and Royal College of Psychiatrists and led by Professor Helen Lester.
People with poor mental health experience up to 3 times more physical health problems than the general population and can die up to 20 years earlier.
People living with and recovering from mental health difficulties face a complex set of challenges including stigma and discrimination, as well as poorer access to education, jobs and good housing. These factors significantly affect their health and wellbeing. In addition, people living with a mental illness are more likely to smoke, have a poor diet and have lower levels of exercise. This leads to higher rates of the main killers such as cancer and heart disease.
The Lester Tool is a downloadable resource designed to be used in a range of healthcare settings to improve screening and to ensure a person's physical and mental health condition are jointly addressed. It provides a systematic framework for screening and recommendations for treatment and support.
The recommendations include:
referring people who smoke to stop smoking services
interventions to improve quality of diet and nutrition
promoting increased physical activity if a patient is overweight
monitoring the effects of antipsychotic medication on a patient's physical health
The Tool also calls for close co-operation between general practitioners and psychiatrists to ensure treatment and support for improved physical health is effective and regularly monitored.
This work helps to achieve PHE's mission to protect and improve the nation's health, to address inequalities, and to embed better mental health in all of its work to improve the public's health.
Gregor Henderson, National Lead for Wellbeing and Mental Health at PHE said:
PHE wants to make a real difference to improve the shocking and unacceptable disparities in life expectancy and poor health experienced by people living with mental health problems. We are examining the wider determinants of mental health and wellbeing, as well as providing new and updated resources and guidance to help improve the public's mental health.

The Lester Tool has contributed to a growing international movement to tackle mental health disparities. This updated resource adds further improvements to this welcome innovation. I'd like to take this opportunity to thank the original authors for their work and to acknowledge the role and dedication of the late Professor Helen Lester in producing the UK adaptation.

This is a fantastic resource and I urge healthcare and public health workers to use the updated Lester Tool to help better meet a person's physical health needs and significantly improve their quality of life and wellbeing.
Geraldine Strathdee, NHS England's national clinical director for mental health said:
NHS England is committed to making sure that mental health is treated the same way as physical health.

People with severe mental illness, including schizophrenia, are at risk of dying up to 15 to 20 years before the general population, and the case for closing the gap in mortality and quality of life for people with severe mental illness is clear.

It is our hope that by publishing this downloadable resource, in partnership with PHE, that doctors and nurses will be able to consult it regularly to monitor and intervene to improve the health of service users, thus helping reduce premature mortality in people experiencing serious mental illness.
Special acknowledgements:
The Lester resource and its update were inspired by the Health Education and Training Institute initiative in Sydney, New South Wales led by Dr Jackie Curtis, Professor Katherine Samaras and Dr Hannah Newall. PHE thanks the authors for their ongoing support in developing the UK adaptation of their original work.
The UK tool is named after the late Professor Helen Lester, who led on the original UK adaptation and whose work focused on improving the lives of people and families affected by mental illness.
Published 13 June 2014
Last updated 30 June 2014
+ show all updates
Updated to clarify accreditations.

First published.