News story
Dominic Jermey appointed as Foreign and Commonwealth Office International Counter-Extremism Coordinator
The FCO welcomes Dominic Jermey's appointment as FCO International Counter-Extremism Coordinator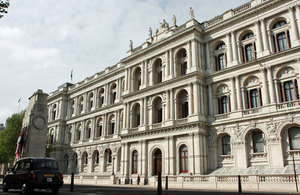 We welcome Dominic Jermey's appointment as FCO International Counter-Extremism Coordinator. This is a new role which reflects the importance this government places on tackling extremism. Dominic will take up his new role on 4 September.
Dominic Jermey joined the FCO in 1993 and prior to his role as UK Trade and Investment (UKTI) Chief Executive was Ambassador to the United Arab Emirates where pursuing UK interests in countering extremism was a key issue. In earlier roles, Dominic was based in Afghanistan with a focus on UK anti-terrorist objectives, led on the threat from Afghanistan-based extremist groups, and worked in Pakistan on Islamist issues affecting the UK.
Dominic has been succeeded at UKTI by Dr Catherine Raines who we wish every success in her new role.
Further information
Published 13 August 2015