A UK-trained police dog team has today gathered vital evidence to help prosecute seven suspected pirates in the Seychelles.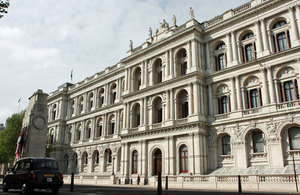 The alleged pirates were detained in the Indian Ocean by Royal Marines on board RFA Fort Victoria. The dogs and their handlers were trained by the Surrey Police Dog Handling Team as part of an FCO and UN funded project to tackle piracy.
Providing sufficient evidence to convict pirates has been a real problem for the international community as pirates often throw their weapons overboard and claim to be fishermen. However, the dog handling team is able to search the suspected pirate vessel for traces of explosives and firearms. Rocket propelled grenades (RPGs) are a weapon of choice for the pirates, but even if they are disposed of in the sea they leave explosive residue that the dogs can identify.
Today's search by Diesel (a spaniel) and Millie (a Labrador) indicated that the suspected pirates' vessel may contain traces of explosives or firearms. This evidence will be passed to the Seychelles Prosecutor who will conduct further investigations. The seven suspected pirates are alleged to have been involved in an attempted act of piracy on a vessel that supplies the Seychelles Tuna Fleet.
Minister for Africa, Henry Bellingham said:
"We must respond robustly to piracy on the high seas and ensure that pirates pay for their actions. The Royal Navy have once again captured a number of suspected pirates and I pay tribute to their fine work.
"But too many times in the past pirates have been captured and not prosecuted because of a lack of evidence. The UK is committed to stopping this from happening.
"Today's operation by the Seychelles Police dog team is a small example of how UK support is making a practical difference - both Millie and Diesel were trained by Surrey Police with FCO and UN funding.
"I congratulate the Seychelles on their willingness to prosecute pirates and I hope that more nations will follow their lead. We will continue to work with our international partners to ensure that convicted pirates can be repatriated to Somalia to serve their sentences."
Superintendent Duncan Greenhalgh, of Surrey Police, said:
"I'm delighted that we have been able to provide this vital support to Seychelles Police. Our operational dogs are an indispensable tool in policing, whether searching, tracking, protecting or guarding, and it is great to see these skills being put in to action by dogs and handlers trained in Surrey over 5,000 miles away in the Seychelles."
Under the Memorandum Of Understanding on the Transfer of Suspected Pirates signed between UK and Seychelles, Seychelles can consider accepting the transfer of pirate suspects where there is sufficient evidence to pursue a prosecution. Given the alleged circumstances, and threat to Seychelles' tuna fishing industry, the Seychelles Government agreed it would accept the seven suspected pirates for prosecution.
Published 1 December 2011