News story
Do not mark applications and correspondence as "Private and Confidential"
The priority of your postal applications and correspondence may be affected if you mark them as "Private and Confidential".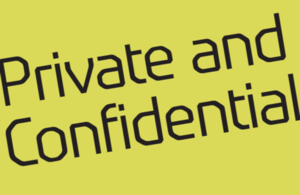 From 30 August 2016, we are changing how we deal with applications and correspondence that relates to an application, when they are marked "Private and Confidential" or "Private" or "Confidential".
Items of post that relate to an application that are marked in this way may be returned to the customer or inspected to assess their suitability for scanning.
This may affect the priority of your applications.
Documents that are returned to the customer, or that have to be assessed to decide whether they are suitable for scanning, will not be deemed to be received for the purpose of rule 15 of the Land Registration Rules 2003.
Details are contained in a revised Direction given under section 100(4) of the Land Registration Act 2002, relating to Addresses for the Proper Offices. This will come into effect on 30 August and replace the version dated 12 April 2016.
The substituted Direction inserts a new paragraph 3 and explains how we will deal with applications.
It is not appropriate to mark an application or correspondence relating to an application as "Private and Confidential" or "Private" or "Confidential" because:
under sections 66 and 67 of the Land Registration Act 2002, any person may inspect and make copies of, or apply for an official copy of, any document referred to in the register or otherwise kept by the registrar which relates to an application to him
other correspondence not relating to applications may be subject to access requests under the Freedom of Information Act 2000
in the interest of natural justice, and pursuant to section 73(5) of the Land Registration Act 2002, Land Registry is obliged to share documents, including correspondence, when there is a dispute.
Any documents returned to a customer which are re-sent to Land Registry must not include any confidentiality marking.
Read more about this in our schedule 2 notice.
Published 18 August 2016